Trump postpones deportation of a former INLA member following pressure from Democrats and Republicans in New York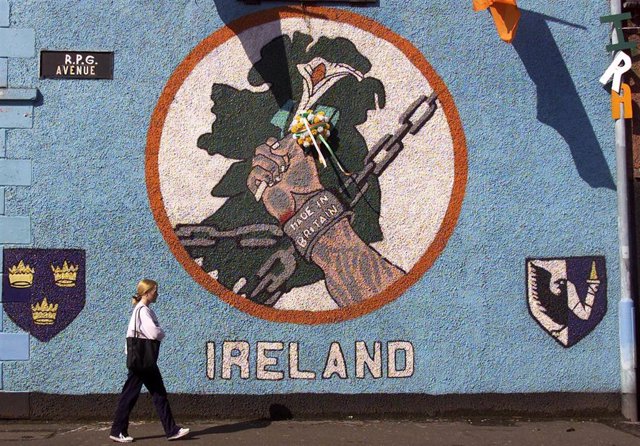 A young woman walks through the streets of Belfast (Northern Ireland). – REUTERS / PAUL MCERLANE – Archive
WASHINGTON, Dec. 3 (Reuters / EP) –
The US government has paralyzed Monday the deportation of former Irish National Liberation Army (INLA) Malachy McAllister, convicted of crimes during the armed conflict that took place between the 70s and 80s between the United Kingdom and the Catholic independence Irish seeking union with the Republic of Ireland.
McAllister was convicted in Northern Ireland for serving as a watchman in an attack on a country police station in 1981 and was also found guilty of conspiring to assassinate another police officer. After seven years imprisoned, he was granted early release in 1985. Three years later he left for Canada with his family, where they were denied asylum. In 1996, they entered the United States with tourist visas, but in 1999 their deportations were ordered.
The Board of Immigration Appeals ordered his deportation in 2003, which was ratified in 2006, for participating in terrorist activities. However, Donald Trump's sister, Maryanne Trump Barry – who was a court judge at the time – has been one of the voices that has asked McAllister and his family to remain in the United States.
Despite a restrictive change in immigration policy in 2017 since McAllister should have been deported a week ago, Republican representatives and New York Democrats have been pushing for him to remain in the country due to his involvement and reintegration into the community.
In that sense, the representative of the Democratic Party Eliot Engel has argued that "whatever happened in Belfast", McAllister "is a different person now."
For his part, Republican Congressman Peter King called the president to let him see that McAllister, owner of a construction business, deserved a second chance. Before this, a source of the Department of Security has informed that the ex-member of the INLA has received, "in an act of generosity of Trump", a postponement of six months, in the hope that its situation is solved definitively.
INLA is a division of the Official Irish Republican Army (IRA). Founded in 1974, it carried out its largest armed activity until the early 1980s. In 1983 it was declared a terrorist organization by both the Republic of Ireland and the United Kingdom.
In 1998 he called for a ceasefire after accepting the Good Friday Agreement, in which the British and Irish governments, as well as the majority of Norwegian political parties, tried to end the armed conflict in Northern Ireland.