Trump now admits that he sent to Ukraine to his personal lawyer after denying him throughout the 'impeachment'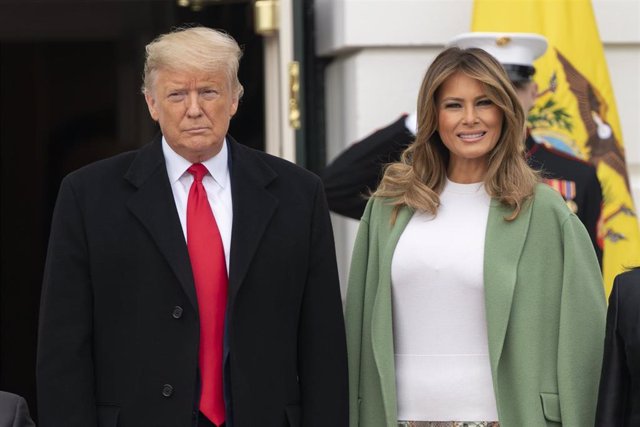 Donald Trump with Melania Trump in the White House – Contact
WASHINGTON, Feb. 14 (EUROPE PRESS) –
The president of the United States, Donald Trump, has admitted that he sent his personal lawyer, Rudy Giuliani, to Ukraine to gather harmful information for his political rivals, after having been denying him throughout the impeachment process, the chain of CNN television
In an interview for a podcast program with journalist Geraldo Rivera, Trump has openly acknowledged that he sent Giuliani and has justified his decision on the grounds that he did not trust the intelligence services and security agencies of the United States.
When asked if he does not regret sending his personal lawyer to Ukraine, Trump has replied that "of course not" and has assured that Giuliani is "a fighter against crime." "Here was my choice: Dealing with the Comey of the world or dealing with Rudy," he said, referring to former FBI director James Comey, who was dismissed from office by Trump himself in May 2017.
Trump has said he has a "bitter taste" with the US intelligence community for the investigation into Russia's interference and that, for that reason, he decided to turn to Giuliani.
"So, when you tell me why I use Rudy, one of the best things about Rudy, which is number one, is that he was the best prosecutor, one of the best prosecutors and the best mayor," said the president. of the United States, who was convicted in the 'impeachment' by the House of Representatives but was acquitted by decision of the Senate.
"Other presidents also had them. Franklin Delano Roosevelt had a lawyer who was practically involved in the government. Eisenhover had a lawyer. They all had lawyers," said the US president.
During the impeachment process, Trump repeatedly denied that he sent Giuliani to Ukraine. "No, I didn't order it," he said in statements to the press in November, when reporters asked him if he decided to send his personal lawyer to Ukraine.
In the interview released Thursday, Trump has defended his decision to use Giuliani, despite the fact that senior US diplomats declared in the 'impeachment' that the efforts of the president's personal lawyer undermined the policy maintained for years with Ukraine.
Giuliani is a central figure in the pressure campaign to Ukraine that led Democratic congressmen to push the impeachment process against Trump and condemn him for abuse of power and obstruction of Congress in the House of Representatives.
Several witnesses said in the parliamentary process that Giuliani met with senior Ukrainian officials to pressure them to have the country's president, Volodimir Zelenski, announce an investigation into Hunter Biden, the son of former US vice president Joe Biden.