Trump is willing to defend his innocence before the US Senate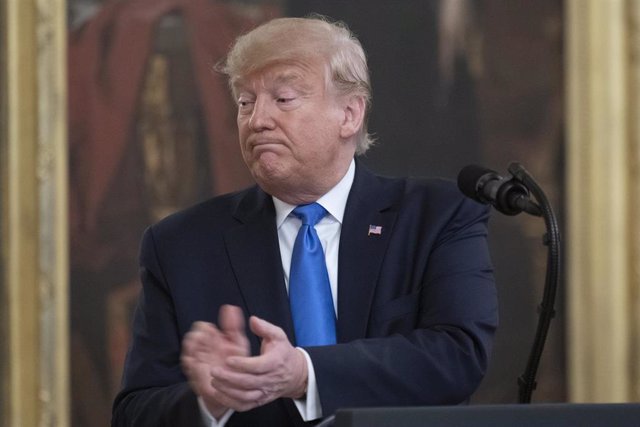 Donald Trumo, president of the USA – Contact
NEW YORK, Nov. 22 (EUROPE PRESS) –
The president of the United States, Donald Trump, has declared himself willing to defend himself before the United States Senate against accusations of pressuring the Ukrainian government in exchange for information about his political rival and former vice president Joe Biden.
"I want a political trial in the Senate," Trump said, after learning that the White House would be willing to discuss this case in the upper house, where Republicans enjoy a majority, and would be received in a much less environment. hostile than in the House of Representatives where preparations for this 'impeachment' are currently happening.
In this regard, the White House Press Secretary, Hogan Gidley, said hours before "the president wants a trial before the Senate to bring witnesses like the Biden and to end this false and illegitimate process that has been opened against he".
Following these comments from the White House and already in an interview with Fox News, Trump has proceeded to defend himself against the many accusations made throughout this week by the witnesses cited by the Foreign Affairs Committee of the lower house of the US Congress. in relation to the Ukrainian scandal.
In these appearances, senior officials such as the ambassador to the European Union, Gordon Sondland, or former Ukrainian ambassador Marie Yovanovitch, have blamed the president for employing his lawyer, Rudy Giuliani, as the spearhead of an operation to remove Ukrainian authorities information about the business of Biden's son, Hunter, as a participant in the shareholders meeting of the Ukrainian company Burisma.
During the interview, Trump has denigrated the former ambassador and applauded his lawyer, whom he described as "one of the greatest crime fighters of all time" and reiterated that his only interest in Ukraine was to fight corruption in the country.
"Rudy has plenty of credentials when it comes to negotiating with a corrupt country," Trump added, after saying that "Yovanovitch is no angel" and regrets that his allies of the Republican party on the committee will be "kind" to the former Ambassador during her appearance before the committee.
"I asked and they told me that I had to treat her well because she was a woman," added the president of the United States, who has described the Democratic leader on the committee, Adam Schiff, as a "sick puppy" and "sick" to dry, and the Democratic president of the House of Representatives, Nancy Pelosi, as "crazier than a bed bug."