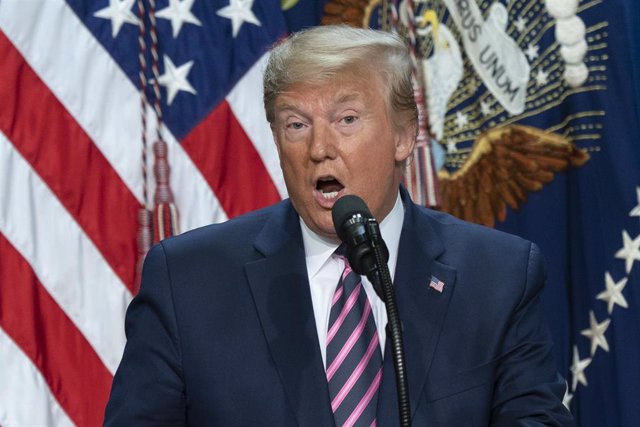 The American president, Donald Trump. – Contact
MADRID, Dec. 20 (EUROPE PRESS) –
The president of the United States, Donald Trump, highlighted Thursday the unity of the Republicans and asked for a political trial in the Senate, where the formation has a majority, "immediately" before the doubts of the Democrats on the management of the ' impeachment '.
"So after the Democrats denied me a fair trial in the House of Representatives, without lawyers, without witnesses, without anything, now they want to tell the Senate how to conduct their own trial," criticized the New York tycoon. "I want a trial immediately!", He said in a message spread through his Twitter account.
In this regard, he regretted that the Lower House, with a Democratic majority, was "unable to take a single Republican vote in the framework of the farce of the 'impeachment."
"Republicans have never been more united! The case of the Democrats is so bad that they don't even want to go to trial," he said.
This same Thursday, the president of the House of Representatives of the United States, Nancy Pelosi, has been reluctant to formalize the sending to the Senate of the articles of the impeachment against the president for understanding that "for now" there are no guarantees that there is going to be a fair trial.
Although the lower house has adopted both articles, it must pass a second resolution in which it will designate the legislators responsible for presenting the case before the Senate, the body where the trial will take place. This second vote is the one that implies that the ball passes definitively to the roof of the Upper House.
Pelosi has avoided establishing a precise calendar, although Democratic sources cited by the newspaper 'Politico' have considered "very unlikely" that there is some kind of progress at least until the beginning of January.
Pat Cipollone, the president's lawyer, will be Trump's principal lawyer in the framework of the political trial that will take place in the Senate, as the leader himself has indicated.
Cipollone, a 53-year-old Republican, sent an eight-page letter to Congress in October stating why the White House refused to cooperate with the investigation carried out by the lower house commission, an investigation it called "charade".
Trump's lawyer is expected to argue that there is no evidence that the president committed any offense or offense and that, therefore, the investigation conducted by the congressmen is partisan and inconsistent.