Trump does not rule out spreading excerpts from the video of the operation against Al Baghdadi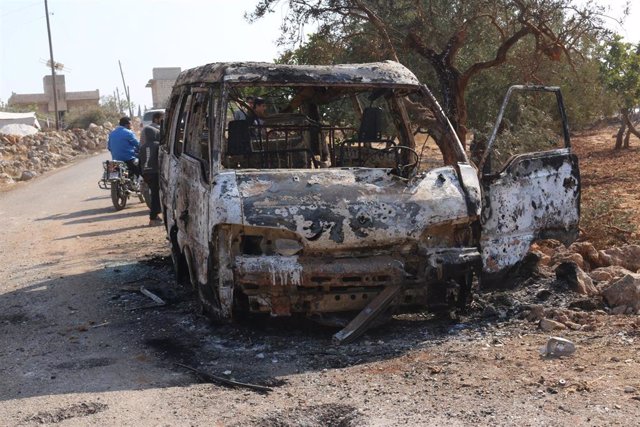 Vehicle destroyed during the attack in which Al Baghdadi died – Mustafa Dahnon / dpa
WASHINGTON, Oct. 28 (EUROPE PRESS) –
The president of the United States, Donald Trump, has raised the possibility of spreading "parts" of the video that would show the operation in which the leader of the Islamic State terrorist group, Abu Bakr al Baghdadi, died that was immolated on Saturday when he was persecuted for a team of US special forces in northwestern Syria.
"We are thinking about it. It could be," Trump said Monday, when questioned by journalists about the possibility of disseminating evidence of the operation. "We could take some parts and spread them," said the president, who on Sunday said that witnessing the deployment from the White House Operating Room was like "watching a movie."
Trump, who has spoken before leaving for Chicago, has insisted this Monday that "it was a great weekend for the country," to the extent that the end of "a man who should have been captured long ago has been confirmed. time, "according to the news portal 'The Hill'.
The operation lasted about two hours and ended with the death of Al Baghdadi, who detonated a belt of explosives while trying to flee through a tunnel with several children. The US troops confirmed with a genetic test the identity of the terrorist leader, considered for years one of the priority objectives of the United States security services.