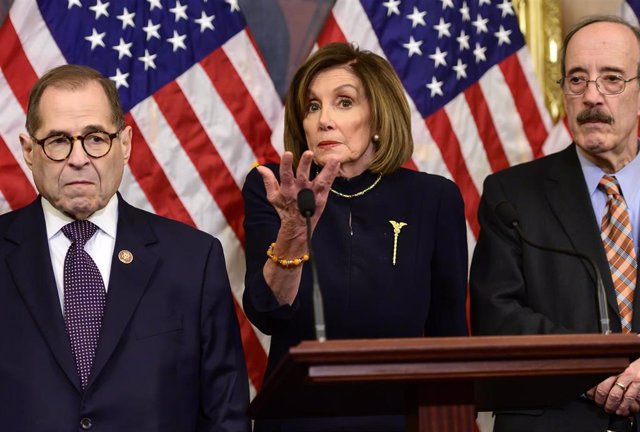 The head of the United States House of Representatives, Nancy Pelosi. – Ron Sachs
PALM BEACH (UNITED STATES), Dec. 22 (Reuters / EP) –
The president of the United States, Donald Trump, has described this Saturday as "very unfair" that the head of the House of Representatives, Nancy Pelosi, has delayed the sending to the Senate of the articles of the 'impeachment' against the president.
"It is very unfair," he said during an event in Florida, while ensuring that Pelosi has adopted this strategy because "it has no case." In addition, Trump, who has referred to Pelosi as "crazy Nancy," has said that, with the decision, the Democrats "are violating the Constitution."
Pelosi has been reluctant to formalize the sending to the Senate of the articles of the political trial against the US president for understanding that "for now" there is no guarantee that there will be a fair trial.
Although the lower house has adopted both articles, it must pass a second resolution in which it will designate the legislators responsible for presenting the case before the Senate, the body where the trial will take place. This second vote is the one that implies that the ball passes definitively to the roof of the Upper House.
Pelosi has avoided establishing a precise calendar, although Democratic sources cited by the Politico news portal have considered it "very unlikely" that there will be some kind of progress at least until the beginning of January.
In this way, they would try to pressure the majority leader in the Senate, Mitch McConnell, to accept procedures that they consider less favorable to Trump, after the Republicans have openly acknowledged that there is coordination with the White House.
Trump, who feels he is a victim of "the greatest witch hunt in history" in the United States, has stressed that the process is progressing without any division among congressmen of the Republican Party. "Republicans are more united than ever," he proclaimed.
McConnell plans to talk in the next few days with the leader of the Senate Democratic Party, Chuck Schumer, to negotiate the organization of the political trial. Among the issues still to be clarified is the possible citation of witnesses during the hearings.