Trump denies interference in Stone's sentence and thanks the attorney general "taking charge" of the case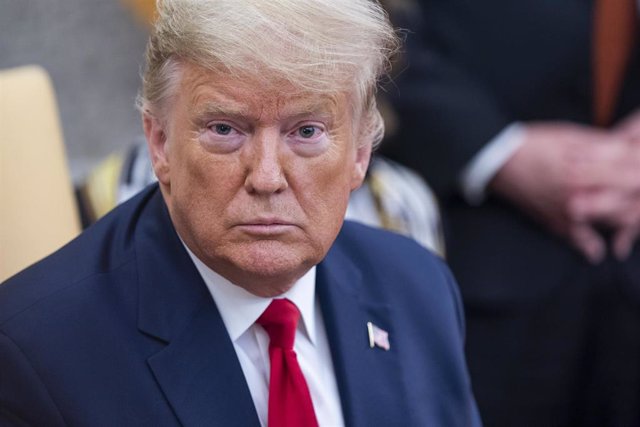 The president of the United States, Donald Trump. – Contact
Barr will answer questions about the Stone case in Congress
MADRID, Feb. 13 (EUROPE PRESS) –
The president of the United States, Donald Trump, denied Wednesday that he interfered in the revocation of the recommendation of a sentence of imprisonment between seven and nine years against Roger Stone, one of his closest allies, while thanking the prosecutor American general, William Barr, "take over" the case.
Several prosecutors from the US Department of Justice proposed this week that Stone be sentenced to seven to nine years in prison for the charges. In addition to obstructing Congress, he is accused of lying to the authorities and manipulating witnesses after contacting the Wikileaks leaks website in an attempt to obtain, during the election campaign, harmful information against the then Democratic candidate, Hillary Clinton.
However, the Department of Justice issued a document stating that Stone should be jailed, but asked for a minor sentence, which nullified the prosecutors' considerations. This document was issued hours after Trump criticized the sentence publicly through his Twitter account. As a result, four prosecutors withdrew from the case and one resigned from the department.
In this context, Trump has specified that the tweets he issued do not amount to political interference and has qualified the recommendation for the sentence of "shame for our country." "They should go back to school and learn," he said regarding prosecutors and said that "frankly, he should apologize" to Stone, according to the CNN television network.
Also, as for his thanks to Barr, he added that "the case was totally out of control and that it should not even have been presented."
For his part, Barr, will respond in the Judicial Committee of the House of Representatives on March 31 for the controversies surrounding the judgment against Stone.
The president of the Judicial Committee of the American House of Representatives, Jerry Nadler, has written a letter to Barr to confirm that he will attend the declaration in Congress, which is held every year.
In the letter, collected by the CNN television network, the Democrats advance that they will ask about the Stone case or the agreement by which Trump's personal lawyer, Rudy Giuliani, provides information about Ukraine.
In Nadler's view, the events "raise serious questions about his leadership" in the Department of Justice. "In his tenure as attorney general he has been involved in a pattern of legal affairs related to the president that raises important concerns for this committee," he said.
For their part, Republicans in the House of Representatives have minimized the involvement of the US president and Barr in Stone's ruling and have specified that they see no reason for the investigation the Democrats demand.