Trump defends the cessation of the colonel who accused him during the impeachment, whom he describes as "insubordinate"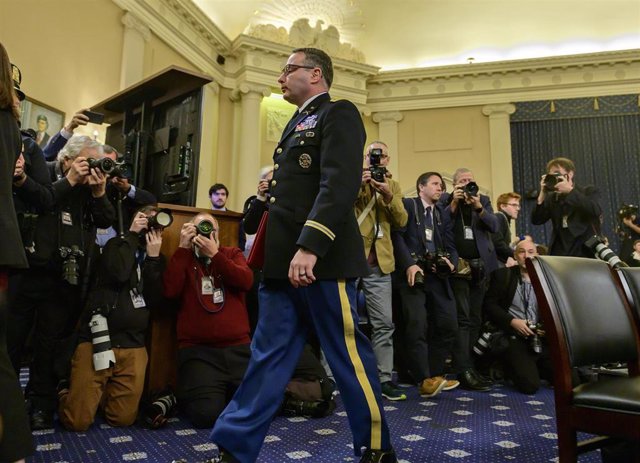 Colonel Alexander Vindman – Ron Sachs – Archive
NEW YORK, Feb. 8 (EUROPE PRESS) –
The president of the United States, Donald Trump, has defended this Saturday his order of dismissal against Colonel Alexander Vindman, who questioned the contacts between Trump and Ukraine in the investigation into the political trial of the president, from which he has been acquitted by the Senate this week, for allegedly asking the country's authorities to investigate the son of his political rival and former vice president of the country, Joe Biden.
"It was inappropriate for the president to request an investigation of a political rival," Vindman testified in November last year before the Intelligence Commission of the House of Representatives, where he questioned Ukraine's ability to conduct an "impartial" investigation into the case of Biden In addition, he admitted that the public disclosure of said request, as it has finally happened, would carry "significant implications".
Vindman, considered the main expert of Ukraine in the National Security Council, has been dismissed from his post in the last hours, months earlier than expected, according to a statement from his lawyer, since his departure was expected for the month of July . Together with the colonel, the ambassador to the European Union, Gordon Sonland, has been dismissed.
Trump has ratified his decision questioning the character of the military. "Fake news organizations like CNN or MSNBC speak of 'Lieutenant Colonel' Vindman as if it were wonderful. Actually, I don't know him, I've never talked to him or met him (I don't think so!), but I was very insubordinate, and incorrectly reported the content of my 'perfect' calls to Ukraine, "the president wrote in his Twitter account.
In it, Trump has assured that Vindman obtained a "horrendous" evaluation of his superior, who described him as, again according to the president, "a man with problems of judgment, with problems in respecting the chain of command and the time to filter information. "
"In other words, 'OUT'," Trump has settled.