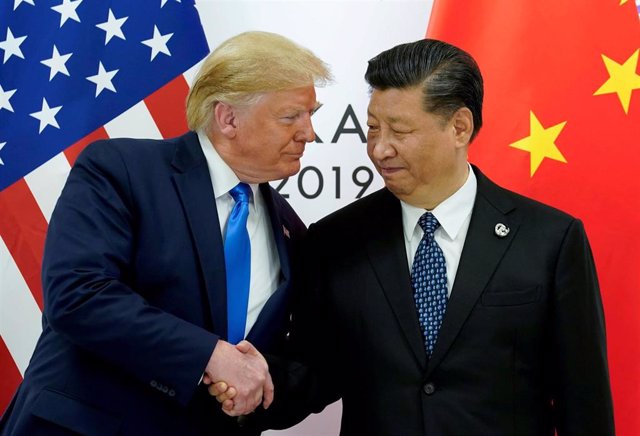 The president of the United States, Donald Trump, and his counterpart from China, Xi Jinping, at a summit in Japan. – REUTERS / KEVIN LAMARQUE
The US hopes to reactivate the diplomatic channel despite the North Korean ultimatum
WASHINGTON, Dec. 20 (EUROPE PRESS) –
The president of the United States, Donald Trump, announced Friday "progress" in his contacts with China after having a "very good" talk with his counterpart, Xi Jinping, on the trade agreement between both countries, Hong Kong and North Korea .
"I had a very good conversation with President Xi of China about our giant trade agreement," he reported on Twitter, noting that Beijing has already begun buying "large quantities" of agricultural products from Washington. Thus, he has indicated that they are finalizing the "formal signature".
"We have also talked about North Korea, where we are working with China, and Hong Kong," added the White House tenant, who has valued all this as "progress."
The United States and China, North Korea's main ally in the international community, have worked together in recent years to bring the Kim Jong Un regime to the talks table in order to achieve denuclearization and pacification of the Korean peninsula .
Trump and Kim have met several times, the last one last June in the Panmunjon border area. Pyonyang has pledged to take significant steps towards this dual objective, although it has demanded reciprocity from Washington, which ultimately means withdrawing the sanctions.
The Secretary of Defense of the United States, Mark Esper, has trusted this Friday that the diplomatic channel will be reactivated in spite of the ultimatum of the end of the year that North Korea has given to the White House to make a concession.
"I remain confident that we can re-activate the process and continue along the diplomatic path," said the Pentagon chief in statements to the press from the Department of Defense, in statements collected by Reuters.
The United States special envoy for North Korea, Stephen Biegun, concluded his visit to Beijing on Friday, during which he met with the 'number two' of Chinese diplomacy, Le Yucheng.
Biegun was expected to have some kind of contacts with the North Korean authorities, there was even an Air China plane at Beijing's international airport to take him to Pyongyang, but he has flown directly to Washington. "No comments this time," he told the press when asked about the reasons, according to Yonhap.
Despite diplomatic efforts, Esper has reiterated that the United States remains "on standby, ready to fight and win, even tonight if necessary," in the face of new North Korean tests with ballistic missiles.