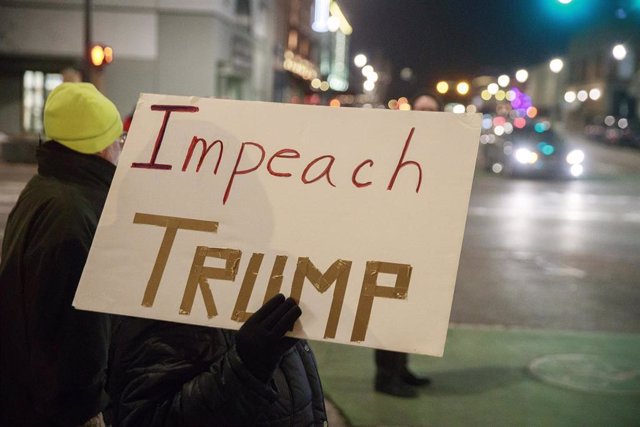 A protester with a banner in favor of impeachment against Trump – Jeremy Hogan
WASHINGTON, Dec. 18 (EUROPE PRESS) –
The president of the United States, Donald Trump, has reloaded this Wednesday against the Democrats hours before the historic vote in which the plenary of the House of Representatives will decide if he becomes the third US president rejected by the deputies in the framework of a process of parliamentary dismissal ('impeachment', in English).
"Can you believe that I will be disapproved today of the radical left Democrats who do nothing and did nothing wrong?", The US president said, in a message posted on his personal account of the social network Twitter.
Trump has said that the fact that the 'impeachment' is approved in the House of Representatives, as will foreseeably happen, "is a terrible thing." "Read the transcripts," he said, referring to the summary of the telephone conversation he had on July 25 with the president of Ukraine, Volodimir Zelenski, and that has been the origin of the parliamentary investigation that has led to the impeachment process. '.
"This should never happen to another president again," Trump stressed, before calling for a "prayer." If the forecasts are met, the Democrats, who control the House of Representatives by majority, will approve the impeachment against Trump on Wednesday in the plenary of the legislative chamber.
With the approval of the impeachment process in a historic vote in the Lower House, Trump will become the third president of the United States disapproved by the House of Representatives, who already approved the impeachment on December 19, 1998 against the then president , Bill Clinton, and he did the same in 1868 with President Andrew Johnson. In Clinton's case, the Senate rejected the 'impeachment' thanks to the Democratic majority and the same happened with Johnson.
In the event that the 'impeachment' is approved in the House of Representatives, Trump will also become the first Republican president rejected by this chamber, considering that both Clinton and Johnson were representatives of the Democratic Party.
Richard Nixon was not put to the vote of the 'impeachment' because he presented his resignation as president in 1974 before he came to convene for the irregularities arising from the 'Watergate' scandal.