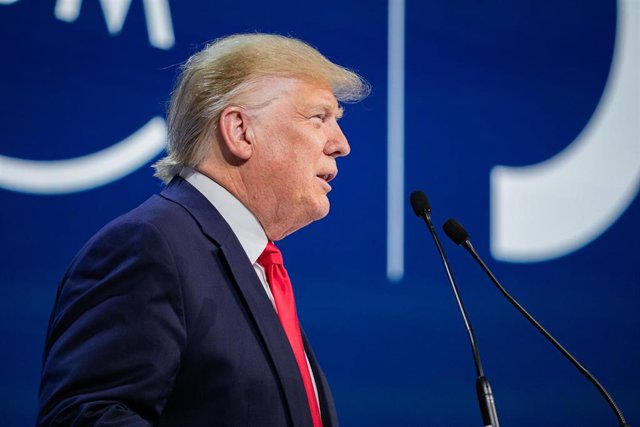 US President Donald Trump – Jakob Polacsek / World Economic Fo / DPA
MADRID, Jan. 27 (EUROPE PRESS) –
The president of the United States, Donald Trump, announced Monday that he will reveal on Tuesday the details of the so-called 'agreement of the century', his proposal to try to solve the Palestinian-Israeli conflict.
Trump, who has received the Prime Minister of Israel, Benjamin Netanyahu, in the White House, stressed that the Israeli president "is here for a reason" and added that the announcement will take place Tuesday at noon (local time).
He also stressed that "many" Arab countries have agreed with the plan, although the Palestinian Authority has already expressed its frontal rejection of the proposal, of which there are no details yet.
In fact, Palestinian Prime Minister Mohamed Shtayé has called on the international community this Monday to reject the 'agreement of the century'.
"We want the international community not to be a partner in this agreement, since it contradicts the alphabet of International Law and the inalienable rights of our people," he said, as reported by the Palestinian news agency WAFA.
Thus, he has argued that the 'agreement of the century' benefits Israel at the expense of the rights of the Palestinian people, before stressing that it does not constitute a basis on which to work to resolve the conflict.
Shtayé said that the proposal shakes the pillars of the Arab Peace Initiative – approved in 2002 and subsequently backed up in 2007 and 2017 – while reiterating that East Jerusalem must be the capital of the future State of Palestine.
"This plan does not return the occupied land to its people, does not recognize the 1967 borders, does not recognize Jerusalem as occupied territory, but gives it to Israel as capital, launches a financial war against the United Nations Agency for Refugees of Palestine in the Middle East (UNRWA), closes the Palestine office in Washington and works to dry up the financial sources of the Palestinian Authority, "he added.
Therefore, he reiterated that "it is nothing other than a plan to liquidate the Palestinian cause." Shtayé has also requested that "the Arab nation be more united than ever and be a shield that protects Palestine from the great conspiracy and safeguards the rights of its people."
The Palestinian Authority has already rejected the mediation of the United States for its decision on the status of Jerusalem, arguing that it maintains a biased and favorable position towards Israel's interests.
Trump announced on December 6, 2017 the change to Jerusalem his Embassy in Israel, thereby dynamiting the only point of consensus in the international community on the conflict between Israelis and Palestinians: that the status of the holy city should be decided in a possible dialogue of peace.
A total of 128 countries demonstrated against this movement in a vote of the United Nations General Assembly, despite which the United States and its allies have continued with their plans. Israel considers the question of the capital of Jerusalem settled.