Trump and Trudeau reaffirm the US-Canada alliance during a phone call after the elections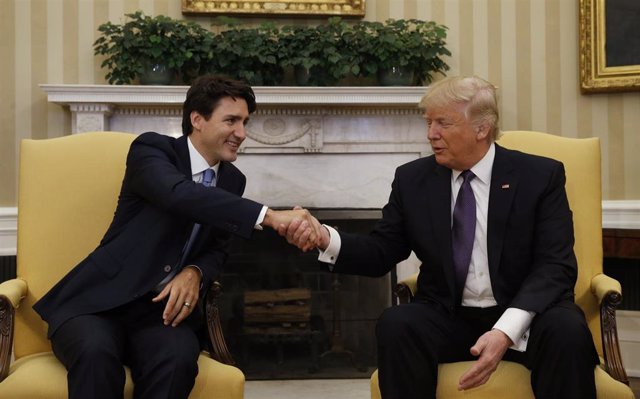 Junstin Trudeau and Donald Trump – KEVIN LAMARQUE / REUTERS – Archive
MADRID, Oct. 23 (EUROPE PRESS) –
The president of the United States, Donald Trump, and the Canadian Prime Minister, Justin Trudeau, have reaffirmed on Tuesday the alliance between the two countries during a telephone call after the Canadian legislative elections, in which the Liberal Party of the leader has made the victory.
"Today President Donald Trump has spoken with Prime Minister Justin Trudeau to congratulate him on the electoral victory," the White House said in a statement.
"The two leaders have reaffirmed the strong alliance and friendship between the United States and Canada," the text notes.
The American leader had already congratulated Trudeau for his "wonderful victory" after knowing the preliminary results of the elections, which have resulted in the victory of the liberals, who although they have lost the absolute majority could rule in the minority.
The country is divided and the electoral campaign, which started on September 11 and lasted 40 days, was marked by the scandal around some photographs in which Trudeau appeared disguised with his face painted black during his time as a teacher.
Trudeu's liberals have been imposed in the elections with 157 seats, 27 less than in the previous elections, followed by the Conservative Party, which has been made with 121 parliamentarians, the Quebeques Block, which adds 32, the New Democratic Party, which It achieves 24 representatives, and the Greens, who remain with three deputies in the Lower House of the Canadian Parliament, according to the results with 99.67 percent of the vote scrutinized.
Despite its victory in seats, Trudeau's party suffers a significant setback and has lost in the popular vote, adding 5.9 million votes, representing 33.1 percent of the total, compared to 6.1 millions of votes that conservatives treasure, which constitutes 34.4 percent of the votes.
The electoral system in force in Canada has benefited the Liberal Party which, despite losing in the popular vote, is made with 46.4 percent of the seats of the House of Representatives, while the Conservative Party keeps 35 , 8 percent of parliamentarians.