Travel chaos after gas leak shuts Charing Cross station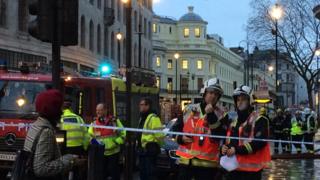 Disruption is continuing after a major gas leak closed parts of London's West End.
Roads are closed and Charing Cross station is shut. Police manning the cordons say they may not be lifted before lunchtime.
About 1,450 people were evacuated from a nightclub and hotel after the leak was discovered on Craven Street, just off the Strand, just after 02:00 GMT.
A ruptured gas main was responsible, London Fire Brigade said.
Train services are currently not running into Charing Cross and Waterloo East – which is also closed – and are being diverted to other terminals.
'Zombie apocalypse'
A Southeastern spokesperson said: "We're doing everything possible to work around this and keep people moving and will be running trains into other London stations, however there will be some unavoidable delays and cancellations this morning."
Commuters are complaining other rail stations are much busier than usual, with one describing London Bridge on Twitter as being like "a zombie apocalypse".
Southeastern said "crowd control" measures were in place at the station.
Skip Twitter post by @Se_Railway
UPDATE: Because of crowd control at London Bridge, you may experience a long wait to enter the Underground station. Please follow @TfLTravelAlerts for London Underground updates.

— Southeastern (@Se_Railway) January 23, 2018
End of Twitter post by @Se_Railway
Charing Cross station saw an estimated 81,000 passengers pass through it every day in 2016/17 according to Office of Road and Rail figures.
Network Rail said the stations are expected to reopen at 11:30.
Police are advising drivers and members of the public to avoid the area.
Richard Okyere, 60, works as security officer on the Strand. He told the BBC he was in the building when he was alerted to a smell.
"My colleagues led me to the back of the building. The whole area smelled of gas, and we called the site engineers who came to investigate."
Gas company Cadent says that it has repaired the leak and is now doing essential safety checks on buildings. It said it hoped to reopen the road later this morning.
Nearby residents and guests from the hotel were evacuated and sent to a respite centre at Royal Horseguards Hotel in Whitehall Court.
---
From the scene: Charlotte Franks, BBC London
Guests at the Amba Hotel, in the Strand, woke up at 3:30 to an alarm.
Some feared it was a terror attack, others looked out of the window to see a police cordon wrapped around the road. Another smelled gas as soon as he woke.
Among the guests were a group of colleagues in London for a conference and a senior figure from Blackberry.
The hotel was quickly evacuated – so quickly that one woman did not have time to reach for her contact lenses.
Guests said it was well-organised, without panic and they followed like sheep to a nearby hotel in Whitehall Court – the Royal Horseguards Hotel.
Staff there served tea, coffee and breakfast and found them space in conference rooms and corridors to rest and sleep.
Early on there was joking and laughing but as the morning has worn on the 50-or-so tired guests are getting increasingly desperate to get back to their own hotel for a bath and some sleep.
---
Thani Spacey, a personal assistant at an office in the Strand, had just completed a 90-minute commute from Leigh-on-Sea in Essex to get to work early.
"I'm frustrated to say the least," she said. "I've just had a text from work but why didn't we hear earlier?"
Valerie Brun , from Chiswick, usually starts work at 7am at a software company on the Strand.
"Surprise, surprise – my building is locked up," she said.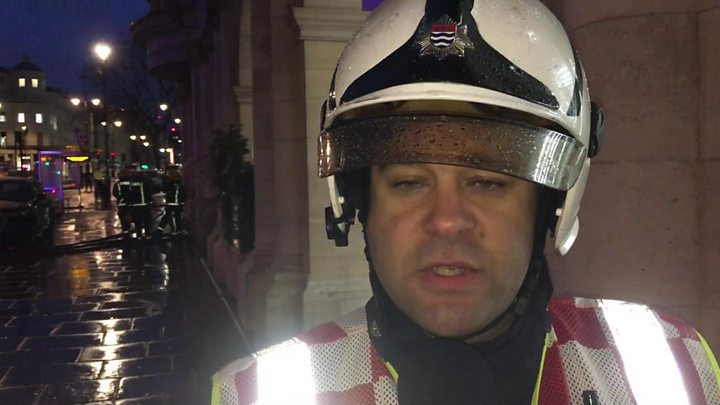 Revellers at the Heaven nightclub described trying to leave "as fast as possible" after they were told to evacuate the building.
One said: "Lots of people trying to leave at the same time. As soon as the word evacuation was heard from security staff everyone was trying to get out as fast as possible."