Trafford Park hit-and-run crash: Woman dies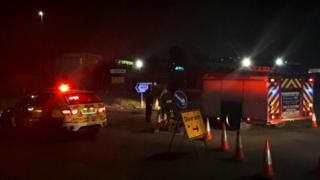 A 20-year-old woman who was among seven pedestrians struck in a hit-and-run crash has died, police have said.
They were hit at about 21:50 BST on Thursday during what Greater Manchester Police described as a "cruise meet" on Europa Way, Trafford Park; an area reported to attract "boy racers".
One witness described seeing people being "launched into the air".
Five victims are being treated for serious injuries while one has been discharged. Two men have been arrested.
The men, aged 21 and 26, are being held on suspicion of causing serious injury by dangerous driving.
The 21-year-old was also detained on suspicion of failing to stop after a collision.
A blue BMW 330D understood to have been involved in the crash was later found in Salford.
There were 60 vehicles present at the time of the crash, police said.
Ch Supt Wayne Miller said: "We are appealing for anyone with any information, no matter how small or insignificant it may seem, to get in touch as a matter of urgency."
Ryan Currie, 23, said he saw three people and a dog get "launched into the air".
He said: "The car then drove through them and carried on without stopping.
"Loads of people ran over to attend to the injured."
Trainers could be seen lying on the road and pavement, with purple medical gloves left strewn around.
Parts of the Trafford Park area have stretches of long, straight roads and have become known locally as a place for car enthusiasts.
One man who lives nearby said "boy racers" were taking part in a car meet, adding: "Little kids in big cars are always racing around the roundabout so something like this is bound to happen."
Jamie Brown, who knows some of the injured, said he saw "people flying" and said he placed a girl in the recovery position.
"It was horrible to see. There were bodies lying on the road and people were screaming," he said.