Tour de Yorkshire marshal: 'How did car miss me?'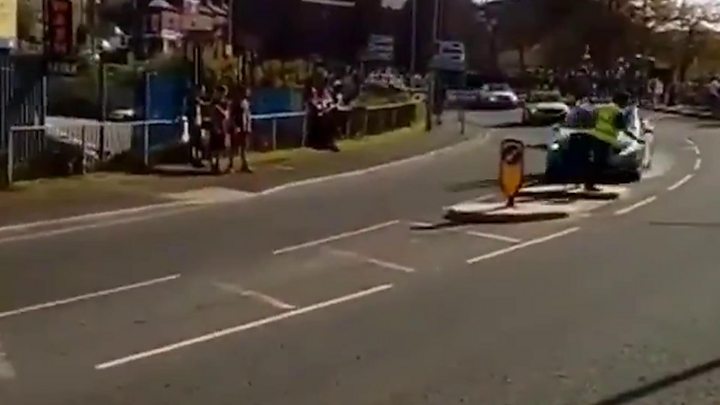 A Tour de Yorkshire race marshal who had to leap out of the path of a support car said he had a sleepless night wondering how the car missed.
Phillip Sullivan was volunteering in Leeds on the final stage of the four-day race when the crash occurred.
A car for the Astana race team narrowly missed him as it went over the traffic island he was standing on.
Mr Sullivan was unhurt and said he did not want the crash to "tarnish the Tour de Yorkshire".
'Not a scratch'
He was working as a flag marshal behind a bollard on the traffic island to warn cyclists of the hazard.
Mr Sullivan, 35, said: "I am still thinking how close it was, but luckily I do not have a scratch."
After the near-miss he composed himself and took his place again because he "knew the riders were coming and I had a job to do".
He said: "But I do want it investigated, I don't want something like this to ever happen again and it to lead to someone getting killed."
A spokesperson for Welcome to Yorkshire – one of the organisers of the race – said it had "launched an immediate investigation to determine the facts of exactly what happened".
Mr Sullivan revealed his mother was watching the race further down the road and saw the crash. She only realised he was unhurt when he took his place again.
"It felt like it was in slow motion and it was sheer luck the car missed," he said.
Mr Sullivan said he had watched a video of his near-miss and worried about the driver of the car.
The Luxembourg-based Astana team said it was "deeply sorry" and has telephoned Mr Sullivan.
More than two million spectators watched the 2018 Tour de Yorkshire.