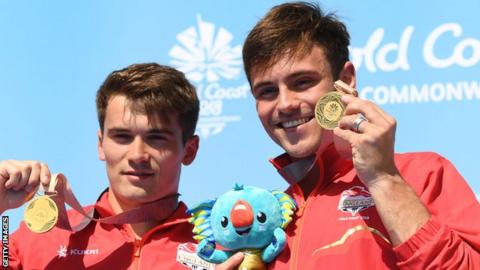 World and Commonwealth Champion Tom Daley has said he will take a break from competition for the rest of 2018.
The 23-year-old won gold with partner Dan Goodfellow at the Commonwealth Games last month but pulled out of the 10m individual event with injury.
He and husband Dustin Lance Black are expecting a baby later this year.
Tom Daley: World and Commonwealth champion to take a break for the remainder of 2018
"I'll be using the rest of the year to spend time with my husband and new baby and work on projects close to my heart," Daley said.
The decision to sit out competition in the rest of 2018 means Daley will miss the European Championships in Glasgow and the remainder of the Fina Diving World Series season.
He will return to training in the autumn but will not compete in major competition until 2019.
"Diving is a huge part of my life, and I have dedicated the last 15 years to it," Daley said.
"I want to keep performing at the highest level for myself, my family and my fans, but in order to do that I need time to take some time to recover.
"I am sure this will give me the time I need to be in a position to compete at my best going into the next Olympics."