Tight swimming trunks UK's 'most hated clothing'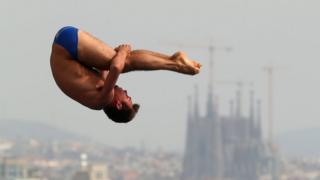 Tight swimming trunks, including those made by Speedo, have been rated as the UK's most hated piece of clothing.
The male swimwear – often simply referred to as Speedos or budgie-smugglers – is essentially a waterproof pair of Y-fronts which are very fitted.
In a YouGov survey, more than two thirds of Britons said they disliked the trunks, while 74% of women shared an unfavourable view of them.
Only 13% of the 3,277 people asked said they liked them.
Out of the 25 pieces listed, leather trousers were voted the second worst item while Crocs – the popular rubber shoe – came third.
Although the trunks are worn by many athletes across the world, it seems the average Briton is not quite ready to champion the style yet.
Speedo's tight fitting brief was originally designed in the 1960s to reduce drag, give support and provide freedom of movement for competitive swimmers.
But Speedo admits it is no longer the most popular style of swimwear for men in the UK, with many opting for looser fitting shorts.
Meanwhile, in parts of Europe, including in France, it is compulsory for men to wear the tight trunks in most public pools
Matthew Smith, of YouGov, said: "Our results show that some things really are better left to the imagination.
"No matter how ready men's beach bodies are this summer, they might not make too many friends if they stride across the sand in a pair of Speedos."
But the founder of Thorsun swimwear, George Sotelo, thinks it is "awesome" if men feel comfortable to wear Speedos.
Last year, he told Esquire magazine: "If you're wearing a Speedo, you have to have some level of confidence because it's such a statement.
"So if you look good and you can fill it out, why not? Go for it."
You may also like:
Those who took part in the survey were also asked to share their opinions on other fashions including socks and sandals and the dreaded VPL (visible panty line).
They said the biggest fashion mistake to make was to wear pyjamas outdoors, with 82% saying they disliked this outfit choice.
UK's 'least favourite clothing'
In brackets the percentages of people who disliked the item
Speedos – (69%)
Leather trousers – (63%)
Crocs – (59%)
Flares – (57%)
Clothes with elbow patches – (54%)
Tracksuit – (52%)
Red trousers – (51%)
Uggs – (51%)
Deep v-neck t-shirts – (49%)
Sweater vest – (49%)