Thousands raised for orphans-to-be Louis and Ella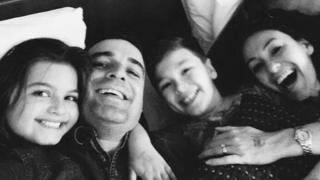 Thousands of pounds have been raised for a brother and sister who face being orphaned.
Kate Smith set up a fundraising page for Louis and Ella Maley after the death of their father and their mother's terminal cancer diagnosis.
Their mother Emma, 40, was given the news in February. Her partner of 18 years, Paul Maley, from Solihull, died on 8 March after suffering a stroke.
Ms Smith wanted to raise £5,000 but has more than doubled that in three days.
She said she was "lost for words" at finding out how much has been raised.
In a post on social media, Ms Smith, Emma's cousin, urged people to keep on giving.
"This is incredible, thank you so much to every single person that has donated."
Ms Smith, from Water Orton in Warwickshire, revealed on the fundraising site that Emma had secondary breast cancer and has been given only months to live.
"Ella is my god-daughter – she is autistic and will need full support and care for many years to come, and this is one of the reasons for setting up this page.
"This tragic story has touched so many people who want to try and do something to help Emma and the children."
Mr Maley had been found to have an arteriovenous malformation, a tangle of blood vessels on his brain, after he collapsed about 18 months ago.
It is thought he was previously unaware of it but had been due to have an operation on 19 March.
Emma was first diagnosed with breast cancer in 2014 but after chemotherapy, radiotherapy and a hysterectomy doctors discovered it had spread, causing secondary breast cancer which has spread to her liver.