Thousands of people march through downtown Santiago on a day of general strike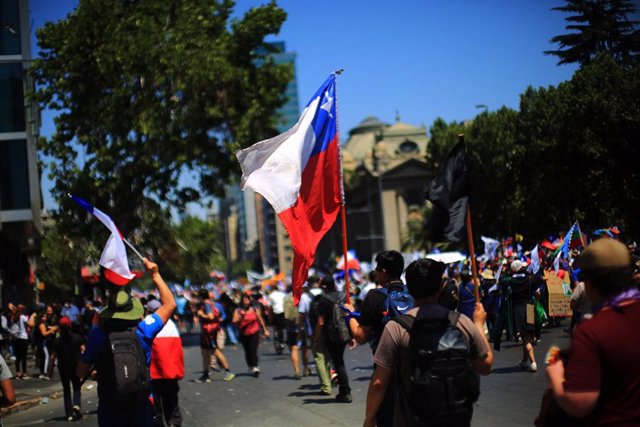 March through the center of Santiago de Chile during the day of a general strike against the Government of Sebastián Piñera – JOSE FRANCISCO ZUÑIGA / AGENCIA UNO
SANTIAGO, 12 Nov. (Agency One / EP) –
Thousands of people have marched through the center of the Chilean capital, Santiago, on a day of general strike that is part of the wave of protests against the Government of Sebastián Piñera for social inequality.
According to the convening organizations, some 300,000 people have marched from the Plaza Italia to the Plaza de Los Héroes, mostly peacefully, although there have been altercations.
At the height of the Alameda, a group of protesters has faced the police who were watching the march. The security forces have used water cannons and tear gas to disperse the hooded, who have come to build barricades on fire.
The demonstrations have been repeated throughout the Chilean geography, as confirmed by the Under Secretary of Interior, Rodrigo Ubilla. In Valparaíso, Concepción and Viña del Mar there have also been riots.
In anticipation of what happened, the Congress, located in Valparaíso, had suspended the sessions this Tuesday. The legislative headquarters has been one of the scenes of the excesses in previous days, with clashes between police and groups of protesters who sought to assault Parliament.
Protests broke out on October 17 for the fourth rise in the price of the subway in a few months but quickly escalated to denounce social inequality. At least 19 people have died and more than a thousand have been arrested for clashes between protesters and security forces. The National Institute of Human Rights (NHRI) has denounced torture and other abuses to the arrested people.
Piñera, who initially responded by declaring the state of emergency, finally apologized to the Chileans for not having heard their demands, announced a "social agenda" and remodeled the Government to carry it out. In addition, he has been willing to reform the Constitution, as protesters now claim.
Despite this, the protests have continued almost daily. "The truth is that, of course, the president made a mini change, but there is a lot of abuse that is and is not enough. This movement is not left or right, it goes beyond," Valentina Donoso, a student at 21 years selling bread in the center of Santiago, before the start of the general strike.
"We believe that unemployment is not the way," said Government spokeswoman Karla Rubilar, arguing that "the paralysis of public services has a strong impact on people." Thus, he has again opted for a dialogue between political forces to resolve the crisis. "If we stay in the extreme positions on each side there will be no changes, everything will be the same," he warned.