Thousands of people march through Bangkok in the biggest protest against the authorities since 2014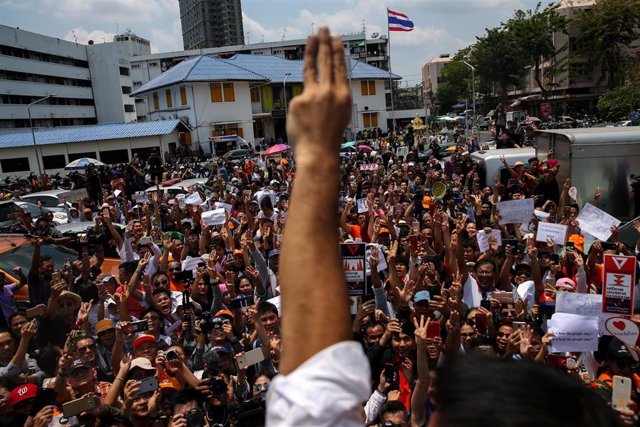 Thanathorn Juangroongruangkit raises his hand in victory to his supporters – REUTERS / ATHIT PERAWONGMETHA – Archive
MADRID, Dec. 14 (Reuters / EP) –
Thousands of people have begun to march through the streets of Bangkok in a demonstration of strength of the emerging opposition party Future Forward that leads Thanathorn Juangroongruangkit, become the main figure against the authorities headed by the former leader of the military junta and now prime minister , Prayuth Pran Ocha, since the coup d'etat of 2014.
"This is just the beginning," Thanatorn has proclaimed from the MBK Center, in the heart of the city's commercial and business district. "Today we are exhibiting a demonstration of strength so that more people join us in the future. This is just a drill," he said before addressing the current president. "Don't be afraid, Prayuth. The good starts next month."
The march has been called especially against the order for the dissolution of his party, issued by the country's electoral authority for breaking the law upon receiving funding from Thanatorn himself, a prominent tycoon.
The former vice president of the largest car parts manufacturer in the country, Thai Summit Group, has become in recent months the most prominent face of the opposition to the Government after obtaining a surprising third place in the March elections.
Although the Pheu Thai party is the largest opposition group in Parliament, Future Forward has become the most prominent critic against the authorities thanks to Thanathorn's extraordinary popularity in social networks.
"If you are tired of living in such a society, the time has come to make noise," Thanatorn published this week a video widely broadcast on Twitter. "If you agree with me that it is time to rise and fight to demand justice, equality and legitimacy, go out with me on December 14," he added in reference to the protest on Saturday.
The prime minister has left the management of the situation in the hands of the security forces although he has questioned the reasons for the march. "It seems that someone to share his personal problem with the rest of the people," said the general in statements collected by the 'Bangkok Post', referring to the legal battle facing his opponent, provisionally expelled from his seat in Parliament for registering its candidacy for elections while holding shares of a media conglomerate.
Thanathorn denies the accusations and ensures that, as dictated by Thai law, he got rid of all his private interests and assets before running as a candidate.
The Thai Police has remained in the vicinity of the march to avoid increasing tension. The Army, without mentioning Thanatorn directly, has repeatedly expressed its rejection of the appearance of "a new movement", referring to Future Forward, which he accuses of conspiring against the Government and the monarchy.