Thousands of people gather in front of the Congress of Argentina to request the legalization of abortion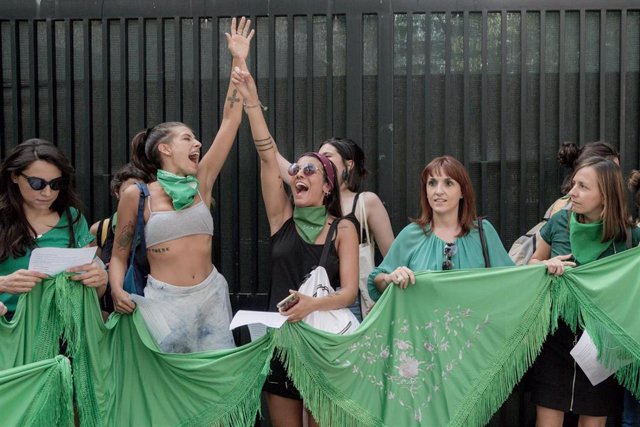 International handkerchief for legal abortion in Argentina in front of the Argentine Embassy in Madrid, which was attended by the secretary of Intersectional Feminisms and LGTBI of Podemos, Sofía Castañón. – Ricardo Rubio – Europa Press – Archive
MADRID, Feb. 20 (EUROPE PRESS) –
Thousands of people have marched through the streets of Buenos Aires on Wednesday until they reach the gates of the Argentine Congress to ask for the legalization of abortion, after the Senate had said initiative in August 2018 and the groups in favor of the Voluntary termination of pregnancy will present their own project for the eighth time in May 2019.
On this occasion, the claims of the 'green tide' are joined by the bill presented by the Government of Alberto Fernández, although from certain sectors there is speculation that the government initiative may present certain obstacles to the right to abortion , such as the conscientious objection of private clinics and their professionals, as well as the obstacles that some health departments of the country could put in place.
"It seems good to us that the Executive presents a project, but they talk about public health and we talk about women's rights. We do not penalize women but those who hinder access. Our project does not speak of conscientious objection and we will never accept the institutional conscientious objection. Access must be in public and private centers, "said Nina Brugo, one of the founders of the National Campaign for the Right to Safe and Free Legal Abortion.
The massive mobilization has been composed of thousands of people who came to it in a personal capacity and groups of all kinds, from feminist groups, through medical unions, teachers and students, as well as policies of some formations, according to the Argentine newspaper 'Clarion'.
"Sex education to decide", "Contraceptives not to abort" or "Legal abortion not to die" have been some of the slogans most heard this Wednesday, not only at the gates of Congress, but also in other Argentine cities.
"The project of Voluntary Interruption of Pregnancy is the result of the consensus of hundreds of feminist organizations with political, social, trade union, artistic, academic and Human Rights organizations," said the organization behind these mobilizations.
In that sense, they have explained that the project "guarantees the right to health" of women and girls throughout Argentina and that if it is not approved, it will perpetuate territorial discrimination based on class, ethnicity and gender identity of more than Half of the population".
"We think education with a gender perspective as a liberating democratic practice", has defended this platform whose bill includes the "ability to volunteer voluntarily until the fourteenth week of gestation", although with exceptions from this date, if there is "risk to life, health or violation".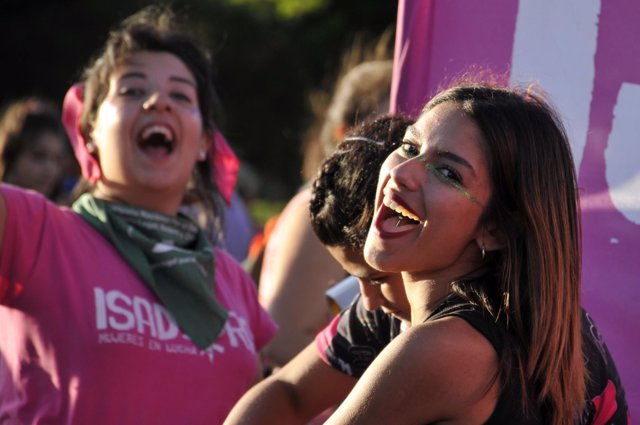 Demonstration to request the legalization of abortion in Argentina – Eva Cabrera / telam / dpa
The association for a Free and Free Abortion has also indicated that the information on abortion "must be accurate, secular, up-to-date and scientific."
In the 'green march' also participated some leaders of political formations of the left, such as Vanina Biasi, of the Workers Party, who has argued that legal abortion is accessible to the entire health system, both public and private, as well as in the Social works, then, he recalled, there are six million workers who have to resort to these types of services.
"Only hospitals are not enough. That it is not guaranteed throughout the health system is a request from the Church, which continues to say that pregnant women do not own their bodies," Biasi has denounced.
During his recent tour of Europe, Fernández confirmed in Paris that his Government would present a bill in the Congress of Deputies to end the criminalization of abortion and allow any termination of pregnancy can be carried out in health centers public
"The problem in Argentina is that every abortion is clandestine. I do not live in peace with my conscience knowing that a woman, who may need to have an abortion, does not have the necessary economic conditions to pay for that treatment and ends up in the hands of a healer , which ends up hurting her and sometimes killing her, "Fernandez said.
The project, according to government sources, will be prepared jointly by the Ministries of Health, Women, Gender and Diversity and Social Development.
From feminist associations and other groups in favor of abortion, it has been criticized that the Government's project reflects the possibility that private health centers and their professionals can justify their refusal to carry out pregnancy interruptions alleging conscientious objection.