Thousands of Kurds take to the streets of Germany to demonstrate against the Turkish offensive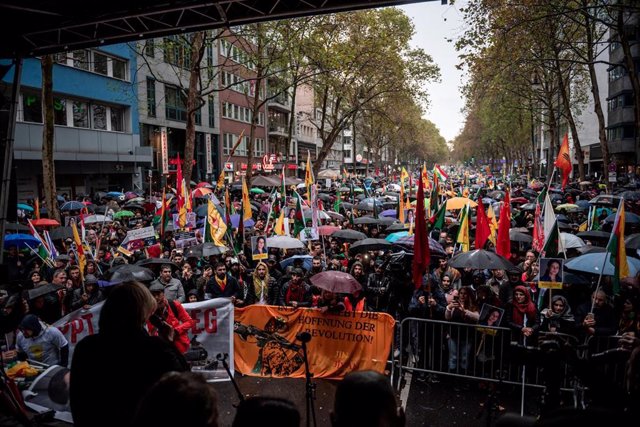 Kurdish demonstration in Cologne (Germany) – Fabian Strauch / dpa
COLOGNE (GERMANY), Oct. 19 (DPA / EP) –
Thousands of protesters in favor of the Kurds have peacefully demonstrated this Saturday in the German city of Cologne – and similar marches are expected in other locations in the country, in the coming hours – to protest against the Turkish military incursion in northern Syria and to claim the German government to call for a negotiation.
The massive protest took place without incident, according to the Police.
The Cologne authorities have indicated that there were fewer attendees than originally expected. According to police estimates, some 10,000 people gathered in the city center. The organizers were expecting some 15,000 protesters and the police prepared a strict security operation for an assistance of some 20,000 people, including groups prone to violence.
The dreaded escalation between Kurdish protesters and supporters of the Turkish nationalist spectrum did not materialize. There was no knowledge of any such incident, according to a police spokesman to the DPA agency in Düsseldorf.
However, the mobilization had to be interrupted several times, among other things due to fireworks and chants in favor of the forbidden Kurdish Workers Party (PKK).
In addition, protesters carried a flag with the portrait of the PKK leader, who has been imprisoned for several years. For these incidents "sporadic" reports were written.
The organizers have urged the first participants, who raised flags of the Kurdish militia, to demonstrate peacefully: "It is important that we do not let ourselves be provoked."
For his part, Gökay Sofuoglu, president of the Turkish community in Germany, tweeted in the morning: "We are in favor of cohesion in Germany and against violence in our streets."
At the closing ceremony, the organizers demanded that the German Government not only condemn the Turkish offensive, but also take concrete measures against it, such as calling the Security Council again or influencing Turkey in the European Council. Germany should not "Be on the side of a despot," protesters have warned.