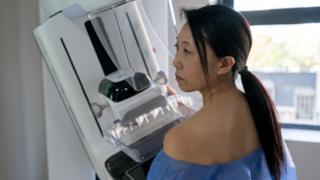 There have been 5,000 calls to a helpline since it was revealed that a computer error led to 450,000 women in England missing out on invitations to routine breast cancer screening.
Breast cancer charities say they have also been inundated by calls.
Health Secretary Jeremy Hunt said that up to 270 lives may have been cut short because of the mistake.
Thousands of calls made to breast screen error helpline
Breast cancer survivors have demanded answers and experts have questioned why the error was not spotted sooner.
However, cancer experts have cautioned that there are pros and cons to screening – not all cancers are picked up by screening and sometimes those picked up do not need to be treated.
The IT mistake, which dates from 2009 but was only discovered in January, meant that women aged 68 to 71 were not sent letters inviting them to their final screening appointment under the NHS screening programme.
If you think you may be affected:
call the breast screening helpline number 0800 169 2692
go the NHS Choices website for more information
you should receive a letter by the end of May
Breast cancer screening is currently offered once every three years to women aged 50 to 70 in the UK.
Mr Hunt said the 309,000 women affected – those who are still alive – would be contacted by the end of May with the offer of catch-up mammograms.
'She wondered why she hadn't been called'
Helen Baczkowska's mother Ann died of breast cancer in 2014, aged 74, after being diagnosed in 2012. She was registered with a GP but had not had a mammogram for several years. Helen fears she may have been one of those overlooked by the screening programme:
"I remember having conversations with her where she said, 'you know what, I haven't been called for a screening for some time', and there was just a question in her mind as to why she hadn't been called, and then of course she discovered a lump herself.
"We think she may have tried to inquire, but didn't really know who to speak to as it didn't come through the GP, it's a separate system.
"You never know with someone's cancer whether it could have been very aggressive anyway. There are so many variables.
"It's hard to lose somebody and to have tried to have moved on through your grief and then have it all brought back."
Breast Cancer Care said its helpline had received four times its usual number of calls in one day.
Dr Emma Pennery, the charity's clinical director, said: "The women contacting us are feeling angry, confused and want answers. Many are anxiously playing a waiting game until the letters arrive, not knowing if they've been affected.
"Others are extremely worried about when their letters will arrive and how long it will take to get screened."
'Devastated'
A recent report on the NHS found that the number of women who accepted invitations to breast screenings had fallen to 71%, a 10-year low.
The Institute for Public Policy Research (IPPR) has questioned why health chiefs did not raise any alarms.
Public Health England spotted the issue in January while analysing data from the Age X trial – which was testing the idea of screening women up to the age of 73.
The BBC understands an error led to women in the control group wrongly being offered screenings up until their 70th birthday, rather than their 71st.
Dr Jenny Harries, deputy medical director of Public Health England, told BBC Radio 4's Today programme: "There are a number of organisations involved in this and I think we are all – Public Health England, the NHS, NHS Digital, the Department of Health – devastated by this.
"We have a screening programme that is world-class.
"We wouldn't want any lives to be shortened. We have gone back and fixed all these glitches and audited that, so women can be assured going forward that that is sorted."