Thousands of Britons gather before Parliament to ask for a new referendum on Brexit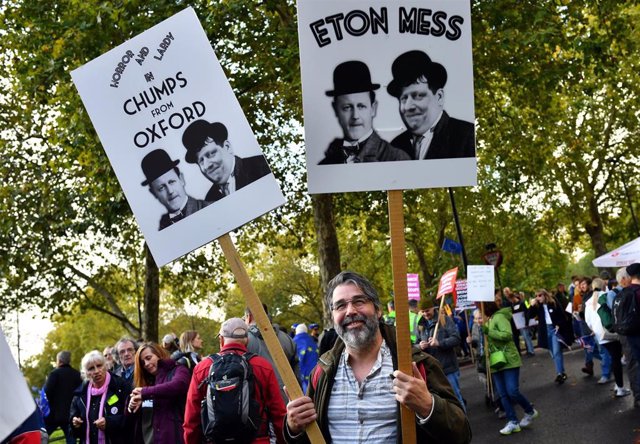 London protest against Brexit – REUTERS / DYLAN MARTINEZ
LONDON, Oct. 19 (EUROPE PRESS) –
Thousands of protesters have begun to concentrate in front of the British Parliament to ask for a second referendum on belonging to the European Union on a crucial day for the aspirations of Prime Minister Boris Johnson, faced with a crucial vote on the exit agreement reached this week with Brussels authorities.
Protesters have begun their march through London's Park Lane with signs against Brexit, a process backed more than three years ago by referendum by 52 voters.
The supporters of the permanence accuse the campaign in favor of Brexit for having hidden negative effects on the future situation of the country and that, more than 36 months later, the population may have experienced a change of opinion.
"I am outraged that we are not heard. Almost all surveys show that now people want to remain in the EU. We feel we have no voice," said Hannah Barton, 56, a cider in the center of the country. "A national disaster is about to occur," he warned.
Many protesters carried banners comparing Brexit with the election of US President Donald Trump. There were also paper mache models that made fun of politicians like the prime minister.
"I don't like the kind of place the country is becoming. We have become a more enraged country," said Phil Canney, a 33-year-old mechanical engineer.
"If what Johnson is presenting to Parliament today had been his argument in the referendum, they would have been razed. They have taken a result and done with it what they felt like," he added.
The prime minister does not contemplate a second referendum while the Labor opposition studies, as a final measure, a "popular vote" on the Brexit agreement, which could serve as a kind of second plebiscite.