Those killed by the outbreak of the new coronavirus total 304 and those affected 14,380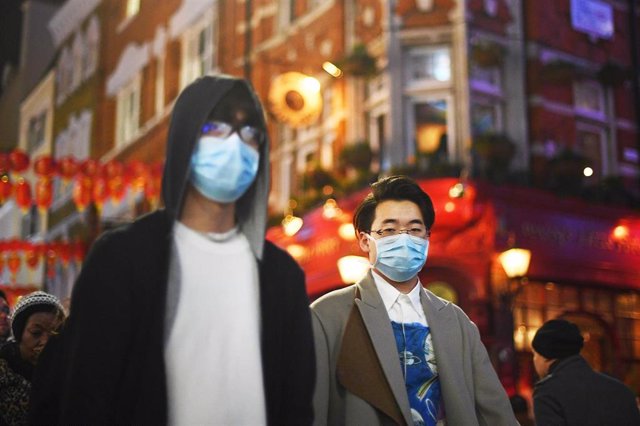 Image of two people with masks in the Chinatown neighborhood in London. – Victoria Jones / PA Wire / dpa
BEIJING, Feb. 2 (Xinhua / EP)
The Health Commission of China has raised this Sunday to 304 the dead because of the new coronavirus and 14,380 affected throughout the country, which has already reached all the Chinese provinces.
On Saturday, authorities have reported 2,590 new cases of coronaviruses and another 45 deaths in the country, all of them in the province of Hubei, where the city of Wuhan is located, epicenter of the outbreak, according to the latest balance sheet.
The Chinese Health Commission has identified another 4,562 suspected cases, amounting to 19,544, and 315 patients have become in serious condition. The commission has also reported that 2,110 patients are in critical condition.
A total of 328 people have been discharged after recovering from the outbreak, specifically, this Saturday there have been 85 who have been able to leave the hospital, 49 of them in Hubei.
The Chinese health authorities have also identified 163,844 people who had close contact with those affected. Of these, 137,594 are under medical observation and a total of 8,044 people were discharged.
In addition, so far 14 cases have been confirmed in Hong Kong, seven in Macao and ten in Taiwan.
Health authorities continue to fight against this outbreak of coronavirus while several countries have joined the states on Saturday that have banned people from mainland China such as Iran, Australia, Russia, Pakistan or Bangladesh.
The Chinese Red Cross Society and the Chinese Red Cross Foundation have received more than 849.72 million yuan (about 110 million euros) in social donations for the prevention and control of the new coronavirus.
This occurs after the World Health Organization (WHO) announced its decision to declare the outbreak of a new coronavirus in China as an international health emergency. "The main reason for this statement is not what is happening in China, but what is happening in other countries," said the agency's director general, Tedros Adhanom Ghebreyesus.
Common signs of infection include respiratory symptoms, fever, cough and shortness of breath. In more severe cases, the infection can cause pneumonia, severe acute respiratory syndrome, kidney failure and even death.
In 2003, more than 600 people died worldwide (349 in China) due to SARS or acute respiratory syndrome, which left 5,327 affected in nine months.