Thor director Taika Waititi says New Zealand is racist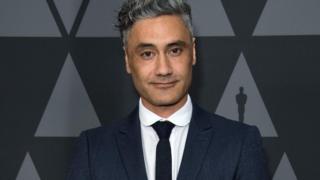 Thor: Ragnarok director Taika Waititi has described New Zealand as "a racist place" but insisted his homeland is still "the best place on the planet."
Mr Waititi made the claim in an interview with New Zealand-born musician Ruban Nielson for the Dazed and Confused magazine.
In a wide-ranging interview, both men discussed fame, their works, politics, cultural heritage and their personal experiences of racism.
Mr Waititi is the son of a Maori father of Te-Whanau-a-Apanui descent and a Jewish-European mother.
He described the type of racism he faced in New Zealand: "People just flat-out refuse to pronounce Maori names properly. There's still profiling when it comes to Polynesians. It's not even a colour thing – like, 'Oh, there's a black person.' It's, 'If you're Poly then you're getting profiled.'"
You may also like:
Mr Waititi's comments caused a stir in his native homeland. Many people praised him for calling out racism and shared their own experiences.
Skip Twitter post by @KurtLorenzen2
Man, you so right, casual racism is alive and well in Auckland. Myself, @45 years old I learnt it first hand from my Nana. But I learnt a better way, mate I found a location where the water shined. #next level

— Kurt Lorenzen (@KurtLorenzen2) April 9, 2018
End of Twitter post by @KurtLorenzen2
While others took to social media to criticise Mr Waititi's observations.
Other commentators praised Mr Waititi for highlighting the issue of racism in New Zealand.
This week's curator of the People of NZ Twitter account, said Waititi's comments are valid: "There will always be work to do and the only way to get better is to acknowledge it. Doesn't matter if we aren't the worst, we can still do better."
The editor of the online news website Stuff.co.nz, Patrick Crewdson, tweeted: "Challenging the country like this is exactly why @TaikaWaititi really deserved that NZer of the Year award." – Mr Waititi was recognised for his role in the country's film industry.
Mr Waititi made his name in New Zealand as a director on the comedy series "Flight of the Conchords", the vampire mockumentary What We Do in the Shadows and comedy-drama Hunt for the Wilderpeople.
He has been hailed as "the finest New Zealand film-maker of his generation," and his success at home has led him on the road to Hollywood. In 2015 he was invited by Marvel Studios to direct "Thor: Ragnarok".
In 2017, he appeared in a tongue-in-cheek anti-racism video for the New Zealand Human Rights Commission's Give Nothing to Racism campaign.