This 98-year-old sports mascot nun is captivating Americans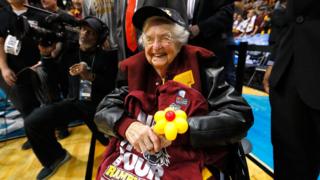 This is Sister Jean. She loves basketball. She is 98. And she is America's new darling.
Her full name is Sister Jean Dolores-Schmidt and she is the chaplain for American college basketball team Loyola University Chicago Ramblers.
The team are enjoying an unexpected run of wins in March Madness, the national university basketball tournament.
The nun, who leads the players in prayer from her wheelchair before a game, has been well-loved by Loyola fans for years, but gained the nation's attention during the team's success this season.
Her dedication to the team, the way she acts like the grandma everyone wants, but most of all her sass, are the keys to her stardom.
She does not just give spiritual guidance but doles out advice, coaching and analysis to the players, who reached the final four teams in the competition on Sunday.
Former US President and Illinois senator Barack Obama tweeted his congratulations to the team, name-checking Sister Jean of course.
Tweets about Sister Jean routinely receive thousands of shares and likes. When she was named a "national sensation" last week, she pithily corrected the journalist: "Really, if I can correct you, international."
On Monday Loyola announced a series of merchandise bearing the Sister's name and image. You can now buy socks, t-shirts, bobbleheads, collectible toys and more emblazoned with her face and slogans.
You might also like:
The nun's sweet appearance is a core part of her appeal.
Many are interested in the chaplain's pre-fame life, as just a regular basketball fan and player. She was there the last time Loyola won the National Collegiate Athletic Association prize, more than half a century ago, in 1963.
Some are concerned about what will happen to Sister Jean should Loyola Chicago not win the tournament.
Her popularity is even adding to the popularity of Catholicism online, a phenomenon which Twitter account Lit Catholic Memes is keen to cash in on.
In the absence of her own profile (Sister Jean reportedly does not have a social media account), parody pages are blossoming, some imagining the shade Sister Jean might throw at critics of her team, or the gifs she might tweet of herself.
There are also the memes – some less kind than others – although most others tweet her motivational quotes.
Some people have warned her to slow down – nightly TV appearances are bit much for your average person approaching 100 years old. But the nun doesn't show any signs of giving up the spotlight.
As long as Loyola-Chicago are still in the running to win March Madness, Sister Jean is going nowhere.
We'll find out on Saturday.