They move new medical equipment to Wuhan to deal with the new coronavirus in China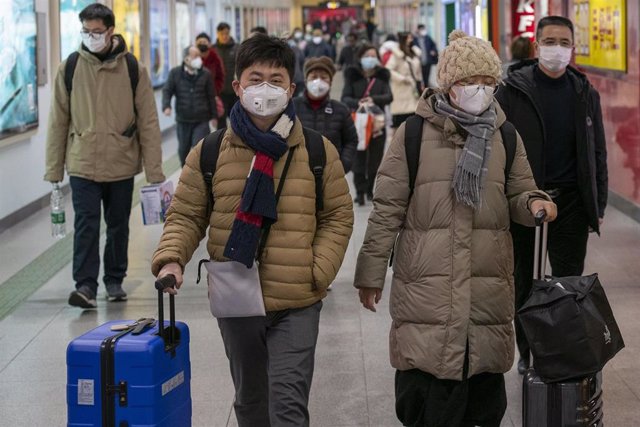 Image of citizens in China with a mask amid the outbreak of the new coronavirus. – Dave Tacon
BEIJING, 25 Jan. (DPA / EP) –
Medical teams from Shanghai, Canton and the People's Liberation Army of China have arrived this Saturday at the epicenter of the new coronavirus, in Wuhan, to assist in medical assistance, as reported by health authorities.
Nearly 1,200 health professionals have been caring for those affected in Wuhan, since as confirmed by the National Health Commission of China there are already 41 dead by the outbreak of the new coronavirus and 1,287 confirmed cases.
More than 500 cases have been detected in Wuhan, although the virus has also developed in other provinces of the country. In addition, of the 41 people killed by the virus, 39 of them are from Wuhan. The majority of patients who have died were 50 years of age or older.
For its part, the Chinese Government has decided to completely close Wuhan, a port city with 11 million inhabitants where the outbreak began. Flights and train lines have been canceled, as well as the bus and ferry service.
Chinese authorities have also expanded travel restrictions to several nearby cities such as Huanggang, Ezhou, Chibi and Zhijiang, which include complete or partial closures of public transportation and affect millions of people within days of the Lunar New Year celebration. Traditionally, the festivities mobilize thousands of people inside and outside the country.
Beijing and other major cities have announced that they will cancel New Year's celebrations to avoid contagion.
About 30,000 people fly daily from Wuhan, according to official data. In total about 29 Chinese provinces have registered cases of the disease, some 5,897 contacts with sick people have been supervised by the authorities, of which 4,928 are still under medical surveillance.
The new coronavirus is 80 percent similar to the acute and severe respiratory syndrome virus (SARS) that caused an outbreak in 2003 that affected 8,098 people and killed 773, mainly in China, according to information published by the National Data Center Genomics of China (NGDC).
In addition, cases are spreading to other countries such as France, with three cases, or the United States, with two affected people. There are also records of two cases in South Korea and two in Japan, Hong Kong, Macao and Vietnam. One has been registered in Taiwan, just like in Singapore. In addition, three cases have been registered in Thailand, but two of them have already been cured, the same number as in Malaysia, to which a case is added in Australia.