They cite to declare John Bolton in the framework of the investigation on the 'impeachment' against Trump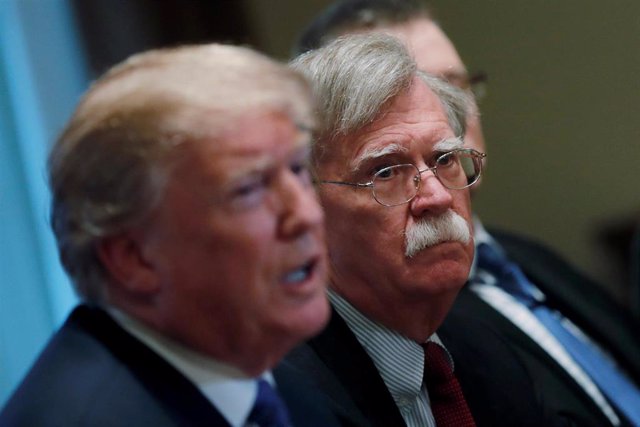 John Bolton with Donald Trump – REUTERS / CARLOS BARRIA – Archive
MADRID, Oct. 31 (EUROPE PRESS) –
The House of Representatives commissions that investigate the possibility of opening a impeachment process against the president of the United States, Donald Trump, have summoned to declare former National Security ex-advisor John Bolton.
Both the former adviser and two of the main White House lawyers will have to go to Congress to testify in the context of the investigation carried out following the call between Trump and his Ukrainian counterpart, Volodimir Zelenski, who would have been pressured by New York tycoon to investigate the son of his now political rival Joe Biden.
Bolton's testimony could include significant statements for the investigation of the 'impeachment'. Some of the people who worked for the ex-advisor have so far indicated that the former Bush interventionist 'hawk' was against the campaign of pressure allegedly exerted on Ukraine to investigate Hunter Biden.
Bolton, who would have opposed the decisions taken by the Administration regarding this matter, would have branded the lawyer of the president and ex-mayor of New York, Rudy Giuliani, of being "a hand grenade" that is going to "make us all fly by the air. "
However, there are doubts about whether Bolton will come to testify next week as requested. His lawyer has stated that "he does not intend to appear voluntarily" and has refused to specify the reasons, as reported by the local newspaper 'The New York Times'.
Congress investigates a possible abuse of power by Trump for his telephone conversation last July 25 with the Ukrainian president, in which he asks the leader to do everything possible for the Prosecutor's Office to investigate Hunter Biden.
The son of the former vice president, meanwhile, has defended the work he did as an advisor to the Ukrainian gas company Burisma, although he regretted that he was not able to foresee that his positions in foreign companies could have a negative impact on the political career of his progenitor.
Lawyer by profession, Hunter Biden has said that he does not regret his work for foreign companies but the attacks that his father has received.
The president of the United States has repeatedly accused Hunter Biden of being involved in corruption issues because of his advisory position in the Ukrainian gas company and has extended his accusation to Joe Biden, who says he was responsible for preventing judicial investigations into Your child's business management in Ukraine.