Theresa May holding crunch Brexit cabinet at Chequers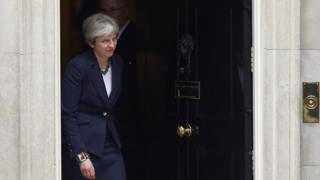 Theresa May and her senior ministers will try to hammer out a deal over the government's approach to Brexit when they meet at her country retreat.
The Brexit sub-committee gathers at Chequers with the government under pressure to spell out in detail what it wants to secure from Brexit talks.
The UK has said it wants a "deep and special" partnership with the EU.
But ministers have been at odds over how closely the EU and UK should align after exit day in March 2019.
UK publishes transition plans

What will Brexit mean for Britain's overseas territories?

Brexit: All you need to know
The Brexit sub committee includes key figures like Foreign Secretary Boris Johnson and Chancellor Philip Hammond. Mrs May will be hoping to secure sign-off for a key Brexit speech she is expected to give in the coming weeks.
As well as finding agreement within her government, the prime minister will need to convince the EU of her approach.
Documents released on the eve of the Chequers gathering suggest European Commission negotiators will not approve of a UK proposal that seeks to select which EU rules to follow and which to diverge from.
Slides published online by the commission say such an approach would be "not compatible with the principles" set out in the EU's own guidelines and posed a risk to the "proper functioning" of its single market.
---
What to expect from Chequers?
By Laura Kuenssberg, BBC political editor
It is safe to say that the differences in the cabinet are real, if not as dramatic and dastardly – or indeed as straightforward – as portrayed.
It is, therefore, also safe to say that getting to a clear, detailed and bold picture after months of tensions, in one day, is unlikely if not impossible.
And if very much is to move forward and be agreed it will either require, as one minister gently lamented, "the PM to actually make a decision", overtly, on her own position and force others along – or for others to budge.
One former minister described the situation as this: "If everyone is happy it's a fudge. If anything's genuinely decided someone has to be unhappy.
"Either Philip Hammond has to agree that he is signed up to divergence, or Boris Johnson has to agree that he can accept alignment, or, someone resigns."
Number 10 would, of course, not agree with that characterisation.
Read Laura's full blog on the Chequers meeting
---
Before the final arrangements with the EU kick in, a temporary transition period is planned – although the details have yet to be negotiated.
On Wednesday the UK set out its plans for how this "status quo" transition phase should work.
The document suggests the UK will abide by new EU laws and be involved in talks on future fishing quotas, but will not be able to sign trade deals without the EU's permission.
It also says the period should last as long as it takes to "prepare and implement the new processes and new systems".
Number 10 denied this meant it would be longer than the planned two years.
For Labour, shadow chancellor John McDonnell said he would like to see "a customs union" option on the table, which would "solve some of the issues around Northern Ireland" and enable the UK to influence future trade negotiations.
Taking questions after a speech in London, he also said Labour would rather have a general election than a second referendum on Britain's EU membership because "there needs to be a wider debate" about the UK's future relationship with Europe.
Other Brexit developments
Amnesty International is claiming the government's key EU (Withdrawal) Bill could "significantly reduce existing human rights protections" in the UK.
In its annual report, Amnesty pointed to the decision to exclude the EU's Charter of Fundamental Rights from the bill, which translates EU legislation onto the UK statute book.
The UK government has said human rights will not be jeopardised by Brexit, saying protections in the EU charter will be covered by domestic law.
The Wellcome Trust – one of the biggest voices of sciences in the UK – has also weighed into the debate, urging continued collaboration between scientists in the UK and Europe, saying "excellent science is critical to the future of this country".
Former MI5 boss Eliza Manningham-Buller, now chair of the Wellcome Trust, told BBC Radio 4's Today programme: "Over the history of the EU, collaboration between this country and the countries of the EU has been extensive. It's delivered fantastic results for society, for health and for our economies.
"Collaboration comes best with close alignment because science is never done in isolation. Collaboration also comes from harmonising regulation. Regulation in this area protects privacy – patient data – it protects patients – patient safety. It protects the use of animals in research."