There are already 71 civilians killed since the start of the Turkish offensive, according to the Syrian Observatory for Human Rights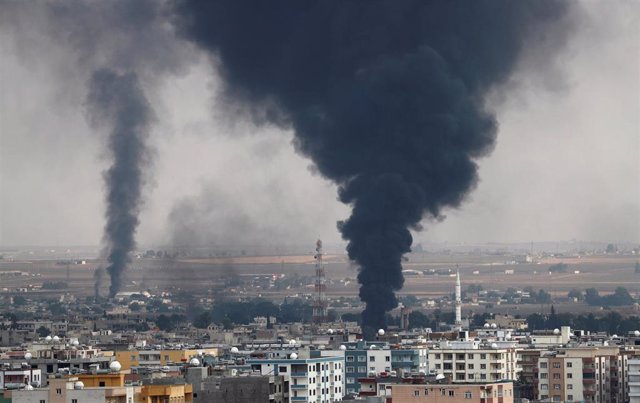 Attacks on Ras al Ain in Syria. – REUTERS / MURAD SEZER
MADRID, Oct. 17 (EUROPE PRESS) –
The Syrian Observatory for Human Rights numbers 71 civilians killed and 300,000 displaced since the start of the Turkish operation 'Peace Spring' on October 9 against Kurdish forces in northeastern Syria.
After a week of fighting, the Syrian Democratic Forces (SDS), mainly made up of Syrian Kurdish militias, have suffered 360 casualties, some 200 more than those recorded on Sunday.
The north of Syria continues to be the scene of movements by the different forces. The pro-government troops have completed their deployment of axes near the Ain Issa area, north of Raqqa, which in turn have entered the town of Manbij.
This end would have been confirmed by the official SANA news agency, which has indicated that Syrian Army units entered the city on Monday night in the north of Aleppo province.
The city was in the hands of the SDS, commanded by Kurdish militias, since the expulsion of the Islamic State terrorist group in August 2016. For its part, the international coalition leading the United States against the terrorist group has reported that its troops have already They have left the area.
The Observatory, which has also monitored the deployment of Russian forces near Kobani, has observed movements of Syrian forces in the area between the cities of Al Hasakah and Ras al Ain.
As noted, the Turkish operation continues to leave sequels among civilians, who are victims of "indiscriminate" bombing. Among the dead are 21 children.