There are already 45 patients due to the viral outbreak in China, which could have affected 1,700 people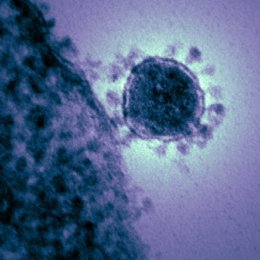 File image of a coronavirus – US NATIONAL HEALTH INSTITUTE – Stock
MADRID, Jan. 18 (EUROPE PRESS) –
The Chinese authorities have already confirmed a total of 45 affected, five of them in critical condition, by the viral outbreak declared three weeks ago in the center of the country and caused by a coronavirus whose reach, according to a center of scientific studies of the United Kingdom, could be much higher than initially contemplated, to exceed a thousand affected.
This outbreak is similar to the cause of Severe Acute Respiratory Syndrome or SARS that broke out in southern China 18 years ago and killed 800 people worldwide, but the Health Commission of the town of Wuhan, Hubei Province and epicenter of the outbreak, is still completing the genetic study of this strain.
At least two people have already died from this disease whose true scope is still to be discovered, according to the study of the MRC Center for Global Infectious Disease Analysis at Imperial College London, after estimating that the number of affected could exceed 1,700.
This disparity in estimates is given by the fact that there are several affected in two other countries besides China: two cases in Thailand and one in Japan. "That Wuhan has exported three cases to other countries would imply that there would be many more cases than have been reported," said center spokesman Professor Neil Ferguson.
The report has made these estimates based on the capacity of Wuhan International Airport, the 10-day period between infection and disease detection and the volume of flights to other countries from the airport – about 3,500 passengers a day -.
The outbreak was confirmed after the Hong Kong authorities reported the entry into the Wuhan hospital of two citizens who had recently visited the Chinese region, specifically a market where they would have contacted or consumed any animal transmitting the virus.
The MRC study even questions the guarantee of the Chinese authorities that there is no possibility of contagion between people – "the magnitude of these figures suggests that such a transmission cannot be ruled out – and recommends" greater vigilance, rapid exchange of information and better preparation. "