The Yemeni government and the southern separatists sign an agreement in Riyadh that ends their confrontation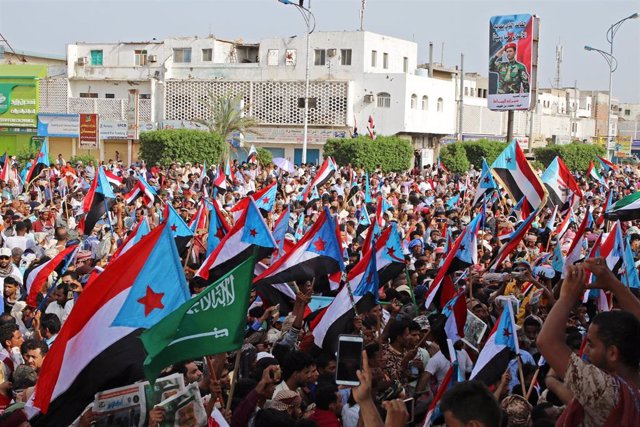 Demonstration in favor of the separatists in Aden – REUTERS / FAWAZ SALMAN – Archive
MADRID, Nov. 5 (EUROPE PRESS) –
The Government of Yemen and the separatists in the south of the country have signed an agreement in Riyadh on Tuesday that ends a dispute that came to face them last summer, as announced by the Saudi crown prince.
Prince Mohamed bin Salman has stressed that the agreement signed between the Executive and the southern separatists is "a step towards a political solution to end the war in Yemen," reports Al Arabiya.
Last August, the forces of the Southern Transition Council (CTS), which bring together the separatists and have the backing of the United Arab Emirates (UAE), took the city of Aden, where the internationally recognized Government is based.
Until then, the separatist forces were part of the coalition that supports Abdo Executive Rabbu Mansur Hadi in his fight against the Huthi rebels, backed by Iran and controlling much of the country, including Sana'a, the capital.
Under the agreement, according to the Saudi chain, the internationally recognized Government will return to Aden within seven days and a new executive will be created with an equal representation of the north and south of the country. It also provides for the unification of all military forces under the umbrella of the Ministries of Interior and Defense.
Among those attending the event have been, in addition to the Saudi heir, the Yemeni president and the Emirati crown prince, Mohammed bin Zayed. Representing the separatists has been the president of the CTS, Aidarus al Zubaidi.
The UN envoy for Yemen, Martin Griffiths, congratulated the Government and the CTS for the agreement reached. "It is an important step for our collective efforts towards a peaceful solution to the conflict in Yemen," he said in a statement.
In the opinion of the UN envoy, "listening to the southern actors is important for political efforts to achieve peace in the country." "I hope that this agreement will strengthen stability in Aden and the surrounding provinces and improve the lives of citizens," he added, thanking Saudi Arabia for its mediation.