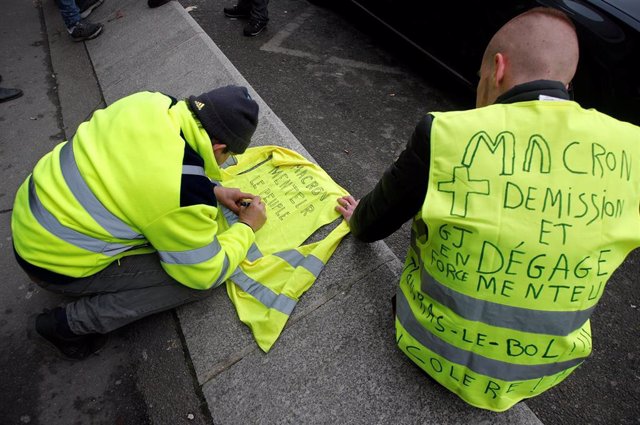 Demonstration of "yellow vests" in Paris – REUTERS / CHARLES PLATIAU – Archive
Truckers denounce the new diesel tax and have started road cuts and slow marches
PARIS, Dec. 7 (EUROPE PRESS) –
The 'yellow vests' have called their 56th Saturday of mobilizations against the Government to join the indefinite strike called by key sectors to protest against the pension reform.
The most important actions are planned in Paris, where a march has started from the Bercy neighborhood towards the Versailles Gate, in the south of the city. There are also demonstrations convened in medium-sized cities across the country such as Mans, Laval or Lons-le-Saunier and in Marseille, where leftist leader Jean-Luc Mélenchon will be present, and in Bordeaux.
Meanwhile, the federal secretary of the Federation of Railroad Workers' Unions (SUD-Rail), Eric Meyer, has warned that the call will be held until the Government announces the withdrawal of the pension reform bill and He recalled that next Tuesday, December 10, a new demonstration is called.
Meyer has highlighted the "historic mobilization", a majority strike in the railways with participation in "very massive" interprofessional movements, and has denounced that the Government intends with its initiative "to prepare the opening of pensions to capitalization".
Social mobilization derives from the pension reform proposed by Macron, which aims to unify the more than 40 schemes currently contemplated by a single framework that, according to the president, would favor equality among workers.
Among the concerns expressed by the unions is that the calculation of pensions is made by virtue of the income earned throughout working life and the suspension of early retirement plans for officials such as public transport workers and medical personnel, although the Government has not yet You have completed your project.
Meanwhile, truck drivers have started mobilizations, blockades and slow marches on Saturday at least 15 points to protest against the increase in diesel taxes.
"The government must listen to the wrath of the carriers and work with the profession in infrastructure financing," said the Organization of European Road Carriers (OTRE) in a message posted on Twitter.
In the coming weeks the French Parliament will have to vote and validate or not the new diesel tax that would be levied on French carriers and that would be included in the public budgets for 2020.