The White House reports a call between Trump and Zelenski that does not mention either Biden or financial aid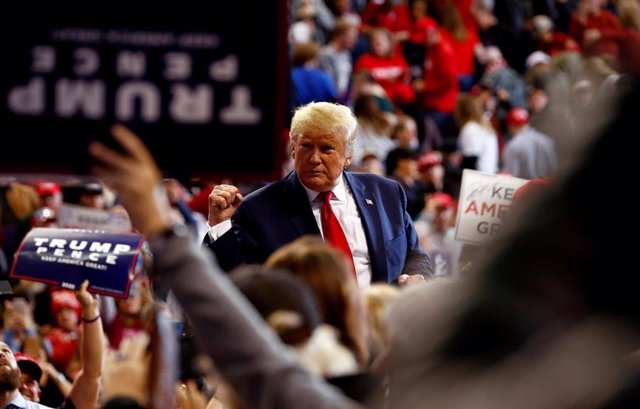 US President Donald Trump at an election rally in Kentucky – REUTERS / TOM BRENNER
NEW YORK, Nov. 15 (EUROPE PRESS) –
The White House has released on Friday a conversation between the president of the United States, Donald Trump, and his Ukrainian counterpart, Volodimir Zelenski, dated April 21, where neither of the two disputes surrounding the impeachment process is mentioned 'or political trial of the US president: the suspension of aid to Ukraine in exchange for an investigation into the son of former United States Vice President Joe Biden, Trump's possible rival in the 2020 elections.
The call begins with a congratulation from Trump to then-elected president Zelenski for his triumph in the March 31 elections, which was carried out in full flight of the presidential Air Force One, and lasted for 16 minutes.
Next, the US president promises that he will send "a great representative" to the inauguration ceremony of the Ukrainian president, on a date to be determined, and reiterates his full support. "We will be with you until the end," Trump assures him, while extending an invitation to visit Washington.
The publication of this document – which the White House does not describe as a literal transcript, but as a set of "memories" drawn from security officials who witnessed the call – coincides with the beginning of the public statement before the Congress of States United of former US ambassador to Ukraine Marie Yovanovich.
Yovanovich, in a pre-closed appearance, accused Trump's lawyer and former New York mayor Rudolph 'Rudy' Giuliani, of launching a smear campaign against her for the damage that the diplomat's efforts to fight corruption in Ukraine , which benefited entrepreneurs related to the lawyer.
The call released this Friday is not part, for the moment, of the 'impeachment' process, in which the conversation between the two leaders is being studied two months later, on July 25, and in which Trump allegedly threatened to suspend economic aid to Ukraine in exchange for information on the business in Ukraine of Biden's son, Hunter, to try to compromise the former vice president.