The White House expects the 'impeachment' to end next week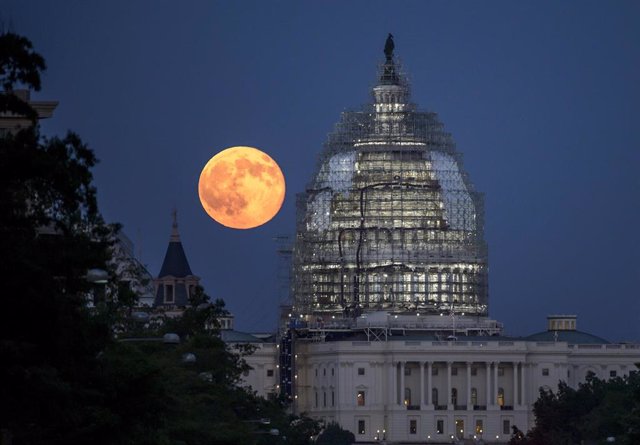 The Blue Moon seen from the United States Capitol – GETTY – Archive
MADRID, Jan. 24 (EUROPE PRESS) –
White House press secretary Stephanie Grisham said Friday that the President's Administration, Donald Trump, expects the impeachment to end at the end of next week.
Grisham, who has branded the process against the New York tycoon of "distraction" from matters of major importance to Americans, said in statements to the Fox News television network that "it is necessary that the pitfall has been overcome next week" of the 'impeachment'.
The words of the former spokeswoman for the first lady, Melania Trump, have taken place hours before the Senate trial resumes, where Democrats have argued that Trump would have violated the US Constitution.
According to the 'prosecutors' Democrats, Trump is guilty of abuse of power and obstruction of Congress, the charges of which he is accused. Trump's legal team, meanwhile, will begin presenting its arguments this Saturday.
"It seems that my lawyers will be forced to start on Saturday, which is known on television as the 'valley of death'," said the US president in a message broadcast on his Twitter account. The leader continues to insist that he has been treated "incredibly unfairly."
"We're not going to try to run out of time," said Jay Sekulow, Trump's lead attorney. The lawyer, who has indicated that he has no intention of using more time than necessary, has stressed that he will carry out a "great defense."
The political trial is chaired by the president of the United States Supreme Court, John Roberts, and the seven deputies appointed by the House of Representatives act as 'prosecutors' in a process in which all senators must act as jurors, regardless of the party in which they militate.
The impeachment process encompasses the investigation and voting in the House of Representatives, where Trump was officially disapproved in December, thus becoming the third censored US president, and the political trial in the Upper House, in which, to date , no president has become dismissed.
The process began following a complaint filed by an intelligence officer who considered that Trump's call to his Ukrainian counterpart, Volodimir Zelenski, on July 25 was an attempt to pressure him to force him to open an investigation into the Biden, paralyzing until then the delivery of more than 300 million dollars of military aid to Kiev and postponing the invitation for a meeting at the White House.
Trump maintains that he is the victim of a "witch hunt" and that his call was "perfect", despite the contradictions that have been observed in the Government since the complaint of the anonymous official for the alleged campaign of pressure on Ukraine.