The wacky outfits embraced by London Marathon runners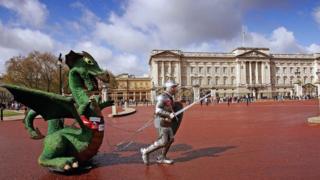 For decades runners have donned bizarre outfits for the London Marathon – from cans of baked beans to a rhinoceros.
Charity runners at this Sunday's marathon have been urged to reconsider their fancy-dress costumes as forecasters predict record temperatures on the day.
But the race has a proud tradition of wacky outfits, with the "running waiter" believed to be one of the event's first fancy-dress runners.
Swiss-born restaurateur Roger Bourban wore a waiter suit and carried a tray on it as he completed the 26.2 miles in under three hours in the early 1980s.
London Marathon event director Hugh Brasher still remembers him – especially as running was "a lot more serious then" so he stood out.
Now, fancy dress is "a major part" of the marathon and something the organisers encourage.
"It's hugely popular with the crowds," Mr Brasher says.
Nearly 100 runners are attempting to make it into the Guinness Book of World Records wearing costumes this year, including a runner dressed as a toilet, a pencil, Paddington Bear and a poo emoji.
With warnings the race could be the hottest on record, fancy-dress runners are warned to "be sensible" and are advised to wear "lightweight costumes".
London Marathon: How to run in the heat
RAF helicopter crewman Jez Allinson – aka the running stormtrooper – is worried about his "extremely warm" costume.
"It's like you're in a greenhouse, even when you're not running. It's a horrible costume to run in," he said.
Being a Star Wars fan and looking to get more attention to help his fund-raising efforts, he first wore the outfit for the marathon three years ago.
He has raised more than £20,000 for Make-A-Wish and Spread a Smile, but now he feels it's time to hang up his helmet.
"I don't want my family and friends to get bored of me as the running stormtrooper," he said, adding that it felt right to round it off as a "trilogy" in Star Wars' fashion.
Seeing Sunday as his "lap of honour", he's not even going to try to break the Guinness record he set last year – the fastest Star Wars character at 4:59:12 – due in part to the heat.
"I'm going to stop and talk to as many people as I want along the way," he said.
After all, he says, it is the crowd's smiles that make the day for him, especially when he sees children's reactions to his costume and knowing "you've made their day".
Seasoned marathon runner Joe Spraggins, 28, said running as "a swimmer" last year made the race "100 times better" because he was in costume.
"I don't think I'll ever be able recreate that… it was my greatest race ever," said Joe, who was raising money for charity.
The London financial analyst said he originally thought of wearing the costume – trunks, a swimming cap, goggles and snorkle on his head and arm bands – as a way to slow himself down.
Fancy dress advice – 'You must practise in your costume'
Both Jez and Joe stress the importance of training in your outfit for a long time before attempting a marathon in it.
"Half a mile is not enough – you must do long distances to make sure it works," Joe says.
He regularly ran in his swimming trunks on Wimbledon Common – with the goggles, armbands and snorkle – and got lots of "double and triple takes" from passers-by.
Jez says cars beep at him when he runs as a stormtrooper, but it's vital to do it as he finds where his costume cuts and chafes him and he can work out wear to put tape and lubricant.
He also sees it as a good fund-raising opportunity – he advises putting your social media handle clearly on your costume so people who see you out running can easily find you later to donate money.
Being a regular runner, Joe wanted to try to improve his recovery time by running a slower time.
But wearing a costume had the opposite effect – he ran his best time ever and he credits the crowd's "energy and buzz" for shaving minutes off his time.
He also claimed the world record, at 2:42:24, for the fastest runner to complete the race in costume.
"Every time I thought I was getting tired another 50 people would shout for me to keep going. It was a case of having to relentlessly keep going," he said.
He said keeping the arm bands and goggles on was the most challenging part – especially as record stewards watch from the sidelines to make sure you finish the race in full outfit otherwise your record will be void.
Loving the crowd reaction so much, Joe wants to run again in costume and is contemplating a more challenging costume next time – a bottle of tomato ketchup.