The Venezuelan opposition calls for new mobilizations to "achieve what happened in Bolivia"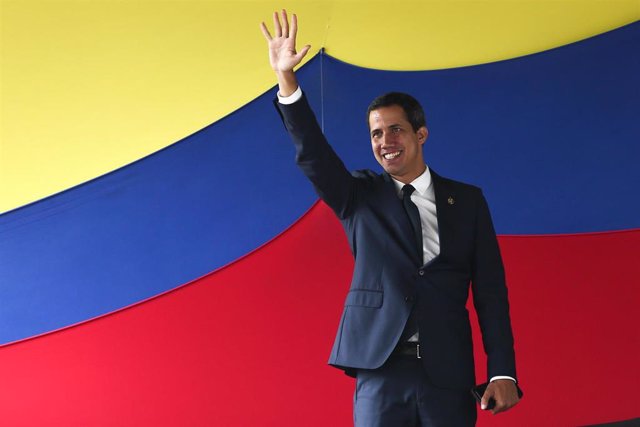 Juan Guaidó – Pedro Mattey / dpa – Archive
Leopoldo López breaks his silence from Spanish diplomatic units and summons the protest to "leave the dictatorship"
MADRID, Nov. 16 (EUROPE PRESS) –
The self-proclaimed president of Venezuela, Juan Guaidó, has launched a new call for protests for this Saturday throughout the country with which he intends to "achieve what happened in Bolivia" after "reviving popular mobilization." The ruling party has also called demonstrations to condemn foreign interference and coups.
Guaido himself has spread through his Twitter account in which he asks for a "permanent protest" that, he explains, seeks "to achieve what happened in Bolivia and that the FAN (Army) and the Police side with village".
However, Guaidó warns that this November 16 "is not a magical date", "is to continue and grow until we are millions and unstoppable" and for this he asks "protest together as many times as necessary until it is achieved".
"We are going to meet again, exercising a majority, demanding the greatest demand: Venezuela. Our freedom being exercised in the street, being together unifying our struggles and insisting until we achieve it, is today's great victory," said Guaidó. To do this, he asks his supporters to go out with flags of Venezuela.
The leader of the Popular Will party, Leopoldo López, who was welcomed by the Spanish ambassador to Caracas, Jesús Silva, and with a limitation of his political activity has also broken his silence. "Our president Juan Guaidó has called on all Venezuelans … to go out to protest," López said through a message recorded and disseminated through social networks such as WhatsApp.
"First we have to leave the dictatorship, strip the dictator …. Tomorrow (November 16) is a key, important day," López said. "It doesn't matter what they do to us. We are going to move on. We are going with strength, we are going with faith," he said.
Guaidó has made constant appeals to the Armed Forces to drop the Maduro Government since it became the interim president. In these months, there have been significant defections, such as the former Chief of Intelligence, but the military institution remains with the leader 'Chavista'.
The opposition leader has convened this day of protest amid regional convulsions. Peru, Ecuador, Chile and Bolivia have lived in recent months strong demonstrations, although for different reasons, that in the case of Bolivia have led to the resignation and exile in Mexico of its hitherto president, Evo Morales.
Guaidó has given his support to the self-proclaimed interim president of Bolivia, Jeanine Áñez, whom she considers an "inspiration" for Venezuela as the head of a "peaceful transition" propitiated by the "fair demand" of Bolivian protesters.
For his part, the president of Venezuela, Nicolás Maduro, has also called his supporters to mobilize on Saturday and has warned the opposition not to try to emulate the "coup d'etat" of Bolivia. "Make no mistake, do not take false calculations with us. Whoever eats the green light is imprisoned," he warned.
Meanwhile, the first vice president of the PSUV official party, Diosdado Cabello, has declared "we are going to organize because anything that wants to do the right ends there in Caracas." "They believe that they will do something there in Caracas, and the rest will remain calm. They believe that everything is resolved in Caracas," he said.
The Minister of Internal Affairs, Justice and Peace, Néstor Reverol, stressed that the different state security agencies are prepared for any scenario of violence that is intended to promote.
"From the promenade Los Próceres, in perfect civic-military union, we have evaluated the operational readiness of state security agencies in the face of any threat that threatens the internal order and peace, which we are obliged to guarantee. We will overcome!" Reverol pointed out in a message posted on social networks.