The US will send tanks and more troops to Syria to protect the oil fields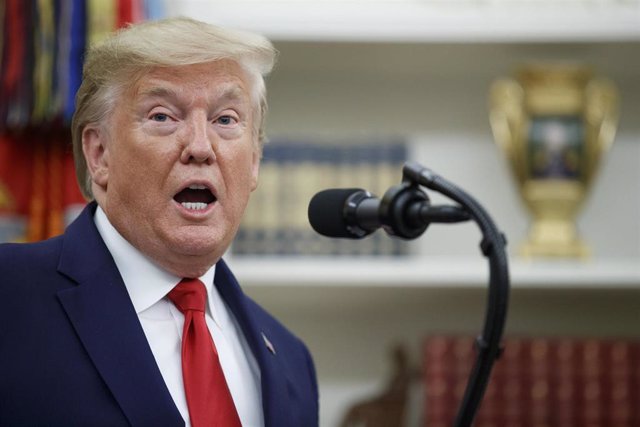 Donald Trump, in a speech at the White House – Contact
The deployment of heavy and more military means coincides with the withdrawal of the Northeast ordered earlier by Trump
WASHINGTON, Oct. 25 (EUROPE PRESS) –
The Pentagon plans to send tanks and more troops to northeastern Syria with the goal of protecting oil wells to prevent these facilities from being captured by the Islamic State terrorist group or by Syrian regime forces and allied Iranian militias, as told by the magazine 'Newsweek' a head of the US Department of Defense.
This deployment of heavy military means and troops by the United States Forces comes in the process of withdrawal of US soldiers from northeastern Syria ordered by the President of the United States, Donald Trump.
Despite the withdrawal ordered days earlier, Trump himself has defended Thursday that US military forces are responsible for protecting the oil fields so that they are not controlled by the Islamic State again. The United States currently maintains about 200 soldiers protecting oil fields and the deployment of tanks and more troops will reinforce this US contingent.
In his personal Twitter account, the US president said Thursday that the fighters of the Syrian Democratic Forces (SDS) – whom Turkey intends to expel from northern Syria with his offensive 'Peace Spring' – should move to the "oil region", to prevent the oil fields from being controlled by the Islamic State.
"We will never let a reconstituted Islamic State keep those camps!", Said the US president, after having held a meeting with the chief operating officer of the SDS. "Maybe it's time for the Kurds to start heading to the Oil Region," he said, referring to the province of Deir Ezzor, located in eastern Syria and where the oil fields are located.
The head of the Pentagon consulted by the magazine 'Newsweek' has said that the Department of Defense plans to deploy up to 30 Abrams model tanks in eastern Syria, where the oil fields are now controlled mostly by Syrian Kurdish forces.
The Pentagon senior official has said that US troops will protect the oil facilities, which will continue to be controlled by the SDS fighters.
The US military deployment in eastern Syria coincides with the process of withdrawal from northeastern Syria, which has given rise to Turkey to launch the Manantial de Paz military offensive, with the aim of expelling the SDS from this region.
The senior US Department of Defense has said that the deployment of tanks in Syria has the dual objective of preventing the Islamic State from seizing oil fields and also deterring the forces of the Syrian regime and its allied militias Iranians so they don't try to get hold of those infrastructures.