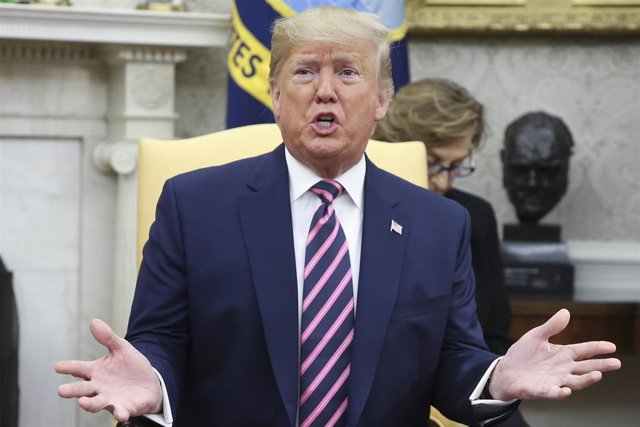 The president of the United States, Donald Trump. – Contact
MADRID, Dec. 14 (EUROPE PRESS) –
The United States Supreme Court will review the appeals that the president of the country, Donald Trump, has addressed to prevent the delivery of his fiscal and financial records to Congress and a New York prosecutor.
"We are pleased that the Supreme Court has granted a review of the president's three cases," a Trump lawyer, Jay Sekulow, announced Friday through his Twitter account.
"These cases pose important constitutional problems. We hope to present our written and oral arguments," added Sekulow. Trump's lawyers have asked for the Supreme's intervention after losing in lower-ranking courts.
In petitions filed in April, Democratic congressmen asked Deutsche Bank AG and Capital One Financial Corp for banking records related to Trump, his adult children and the Trump Organization as part of the investigation that the president is subject to in the framework of a possible 'impeachment'. Manhattan District Judge Edgardo Ramos ruled in June that the subpoenas should be attended.
Deutsche Bank has long been the principal lender of the US president's real estate business. A report published in 2017 showed that Trump had at least $ 130 million in obligations to the bank.
The request to Deutsche Bank seeks records of accounts, transactions and investments related to the Trump, people close to the family and with several of the entities that make up the Trump Organization, as well as records of possible links with foreign entities.
For its part, the petition to Capital One presented by the Financial Services Committee seeks records related to the Trump organization's hotel business.
The American Justice already processes several requests to know the state of Trump's finances, something that the president has resisted for considering that it is not relevant. So far, a precautionary measure has slowed its publication pending a final decision.
On the other hand, researchers in New York have also requested eight years of Trump's financial records in a separate case.
The decision of the Supreme Court has been known hours after the Judicial Commission of the House of Representatives of the United States has approved the statement of objections of the 'impeachment' against the president, which contains the crimes of abuse of power and obstruction of Congress, such and how the parliamentary working group had advanced.
The accusation text maintains that, "using the powers of his high office, the president requested the interference of a foreign Government, Ukraine, in the presidential elections of 2020" through a series of efforts, both direct and through "agents", inside or outside the Administration.
Specifically, "he asked the Government of Ukraine to publicly announce the opening of two investigations that would have benefited his re-election and harmed the electoral expectations of a political opponent," so that they would have influenced the 2020 elections.