The US signs commercial peace with China and pledges to eliminate tariffs in 'Phase 2' of the agreement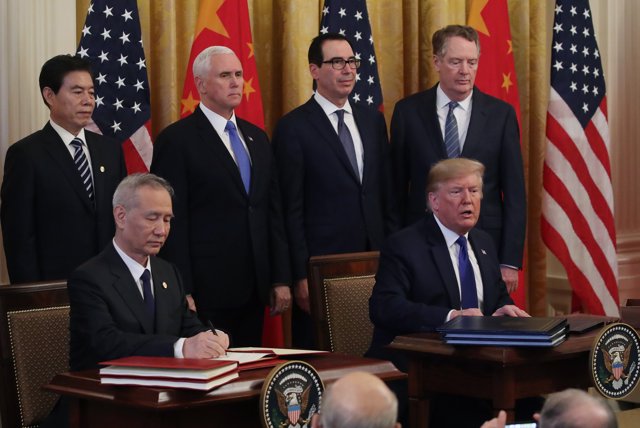 Signing of 'Phase 1' of the trade agreement between the United States and China. In the photo, the president of the United States, Donald Trump, and the Chinese vice premier, Liu He – GETTY IMAGES
WASHINGTON, Jan. 15 (EUROPE PRESS) –
The president of the United States, Donald Trump, and the vice prime minister of China, Liu He, have formalized on Wednesday the commercial peace between both powers by signing, in the White House, of the 'Phase 1' of the agreement reaching between Washington and Beijing.
This agreement, which had been pending for several weeks, will be the beginning of a "fair and reciprocal trade" between the two countries, Trump said during his speech before signing.
As specified by the US president, under the terms of this agreement, China has pledged to increase its imports of US goods by more than 200,000 million dollars (179,264 million euros) in the next two years. Specifically, Beijing will import an additional 75,000 million dollars (67,224 million euros) in manufactured goods, 50,000 million dollars (44,816 million euros) in energy, 50,000 million extra dollars in agricultural products and between 40,000 and 50,000 million dollars ( between 35,853 and 44,816 million euros) in services, including financial services.
Trump has advanced that during this first phase of the agreement the tariffs on Chinese imports imposed throughout the trade war with Beijing will not be modified.
"We have agreed to remove tariffs if we achieve a 'Phase 2'. We are going to leave them because, if not, we would not have letters to negotiate," the US president has apostilled. The commercial negotiators in Beijing and Washington have already begun work to reach this second and final phase.
During the signing ceremony of the agreement, Liu He has read a letter that the president of China, Xi Jinping, has forwarded to Donald Trump. "The conclusion of 'Phase 1' is good for the United States, for China and for the whole world," he said in the letter.
Likewise, Xi has pointed out that he "expects" that the United States treat "Chinese companies" fairly. In recent months, Washington has raised vetoes and openly criticized technology firms such as Huawei or ZTE.
This first commercial phase will generate "stable growth" and "promote world peace and prosperity," according to the Chinese vice premier.
In 2019, the US-China trade war helped reduce the value of exchanges between the two countries by 14.6%, to 541,223 million dollars (485,887 million euros), according to data from the National Customs Administration of China .
China's exports to the US fell 12.5% ​​in 2019, to 418.509 million dollars (375.720 million euros), while purchases of US products fell 20.9%, to 122.714 million dollars (110.155 million euros)
In this way, China's trade surplus with respect to the US decreased by 8.5% compared to 2018, when it had accounted for a record surplus, up to 295,795 million dollars (265,522 million euros).