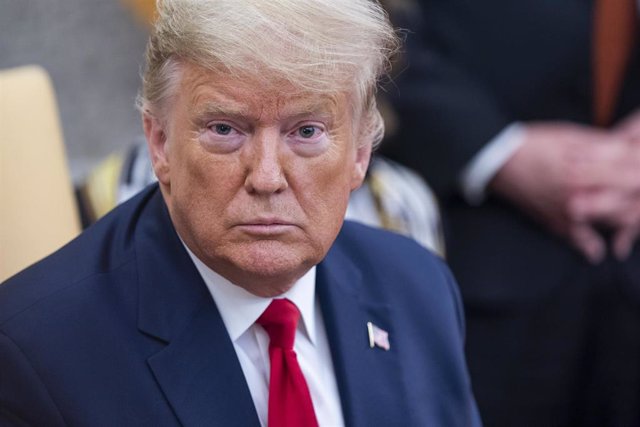 The president of the United States, Donald Trump, in the White House – Contact
MADRID, Feb. 13 (EUROPE PRESS) –
The United States Senate on Thursday approved a resolution limiting the capabilities of President Donald Trump to use military force against Iran without the approval of the US Congress.
The US Senate approves a resolution limiting Trump's ability to use military force against Iran
According to the information collected by the American television network CNN, the voting in the chamber – in which the Republicans have a majority -, has resulted in 55 votes in favor and 45 against, after eight members of the party of Trump voted 'yes'.
The resolution "orders the president to end the use of the United States Armed Forces for hostilities against Iran or any part of his Government or Army, unless explicitly authorized by a declaration of war or a specific authorization for use of military force against Iran. "
It also includes a clause that states that no part of the resolution "should be used to prevent the United States from defending itself against an imminent attack." The resolution was previously approved by the House of Representatives, a Democratic majority.
Trump asked the Senate on Wednesday not to approve the resolution and said it would be "a sign of weakness." "It is very important for the security of our country that the United States Senate does not vote in favor of the War Powers Resolution on Iran," he said.
"We are doing very well with respect to Iran and it is not time to show weakness. The Americans mostly support our support against the terrorist (Qasem) Soleimani," he said, referring to the head of the Quds Force of the Iranian Revolutionary Guard, killed in a bombing executed in early January in Iraq.
Thus, Trump said that "if their hands are tied, Iran will have a free way." "This sends a very bad signal. The Democrats only do this as an attempt to embarrass the Republican Party. Don't let it happen," he said.
The resolution is in accordance with a section of the War Powers Resolution, originally adopted to restrict the powers of former President Richard Nixon at the end of the Vietnam War.
The law, of 1973, establishes that any force involved in hostilities outside the United States "will be dismissed by the president if Congress so orders by a concurrent resolution" This means that it only requires the approval of both houses and the president does not have to Sign it to be effective.