The US says that its position on Venezuela and that of "each EU country", including Spain, is "basically the same"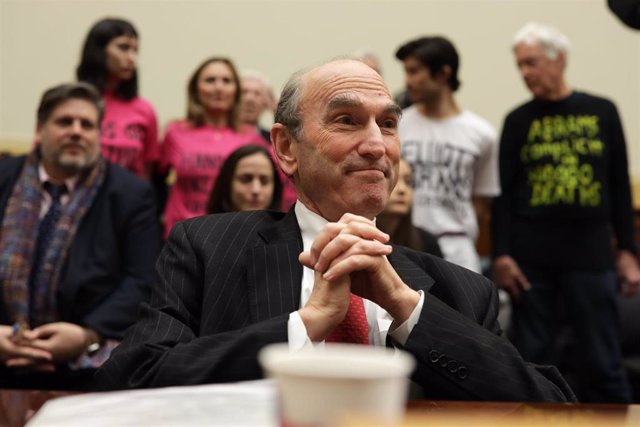 The United States special envoy for Venezuela, Elliott Abrams. – GETTY IMAGES / ALEX WONG – Archive
MADRID, Feb. 19 (EUROPE PRESS) –
The United States special envoy for Venezuela, Elliott Abrams, stressed on Wednesday that Washington's position on Venezuela is practically the same as that of "every country in the European Union," including Spain.
In a conference call with foreign journalists, Abrams said that "Spain, as a democracy and member of the EU, recognizes the terrible crisis in Venezuela and the fact that the country is not a democracy", something that in his opinion "is not going to change for the sanctions imposed on the Russian oil company Rosneft Trading, responsible for the projects of the parent abroad.
"Spain has recently referred again to Juan Guaidó as the interim president and leader of the Venezuelan opposition, as well as president of the National Assembly, which is why I believe that the position of the United States and that of the EU countries and of the EU itself is basically the same, "he said.
In this regard, Abrams has stressed that the US Administration maintains a "regular dialogue" with the Government of Spain on "dozens of issues." Thus, he has pointed out that one of those issues is Venezuela, an issue that particularly worries Spain due to the Venezuelan diaspora that resides in the country.
The US special envoy recalled on Wednesday that the sanctions against Rosneft are "reversible" and has encouraged the Kremlin to work actively in favor of a solution to the Venezuelan crisis for considering that their aid would give results due to the strong ties between Moscow and the Government of Nicolás Maduro.
Abrams has explained that Russia's support for Maduro is "very important," so any management of the Vladimir Putin government in favor of a solution "would be a very positive contribution."
In this regard, he has indicated that "the purpose of the sanctions is to change the behavior" of the affected persons and entities, so that "they do not have to be permanent." "They are reversible," he emphasized.
And, in the case of Venezuela, he has clarified that the objective of the sanctions is "to force the Maduro regime to enter into a negotiation so that there are free presidential elections" as a "peaceful way" to resolve the political crisis in the country.
Maduro, on the other hand, has announced a judicial offensive against US sanctions, which he considers "illegal" for being unilateral. In addition to the International Criminal Court (ICC), he has filed a complaint with the International Court of Justice (ICJ) for punitive measures against the state airline Conviasa.