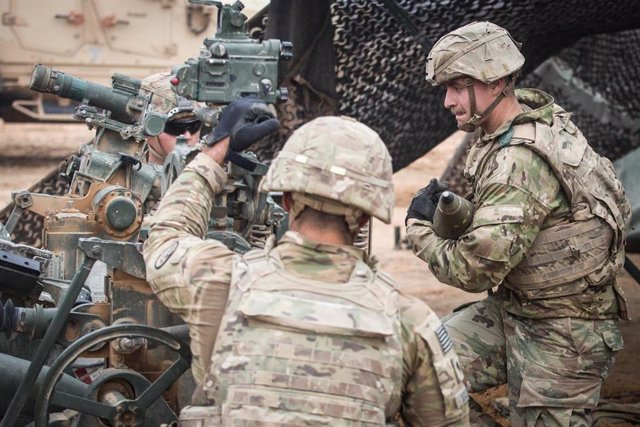 United States forces in Iraq – Mikki L. Sprenkle – Archive
WASHINGTON, Jan. 10 (EUROPE PRESS) –
The United States Government has ruled out discussing with the Iraqi authorities a possible withdrawal of US troops, hours after Iraq's Prime Minister, Adel Abdul Mahdi, requested the opening of "mechanisms" for military withdrawal.
The US refuses to debate with Iraq the withdrawal of troops after the request of the Prime Minister
The spokeswoman for the US State Department, Morgan Ortagus, has stressed in a statement that "the United States is a force of good in the Middle East." Thus, it has circumscribed the presence in Iraq within the need to fight terrorist groups as an Islamic State and to guarantee the protection of the United States, Iraq and the partners of the international coalition.
"At this time, any delegation sent to Iraq would be dedicated to discussing how we can better engage with our strategic alliance; not the withdrawal of troops, but the correct and proper position of our forces in the Middle East," Ortagus added.
The State Department receives a NATO delegation on Friday with which the Donald Trump government wants to examine an "increased role" of the Atlantic Alliance in Iraq. The US president has not hidden that he wants to "share the weight" of "collective defense efforts.
Ortagus has also admitted that Washington has a pending conversation with Baghdad, "not only in terms of security," but also about bilateral cooperation in economic and diplomatic matters. "We want to be a friend and an ally of a sovereign, prosperous and stable Iraq," he added.
The clarification of Washington comes after a telephone conversation between the prime minister of Iraq and the head of US diplomacy, Mike Pompeo, in which both spoke of the escalation of tensions after the death of General Qasem Soleimani in an American bombing in Baghdad and the Iranian double attack on bases with a US military presence in Iraq.
Abdul Mahdi made it clear to Pompeo Baghdad's rejection of "all operations that violate his sovereignty," including the attacks carried out by Iran, and transferred that Iraq is making efforts to avoid "becoming a battlefield."
In the course of the conversation, the Iraqi Al Sumaria chain reports, the prime minister asked Pompeo to send delegates to Iraq with a view to putting in place mechanisms to comply with the resolution passed by the Iraqi Parliament demanding the withdrawal of the US troops