The US peace envoy for Afghanistan ends its last regional tour without progress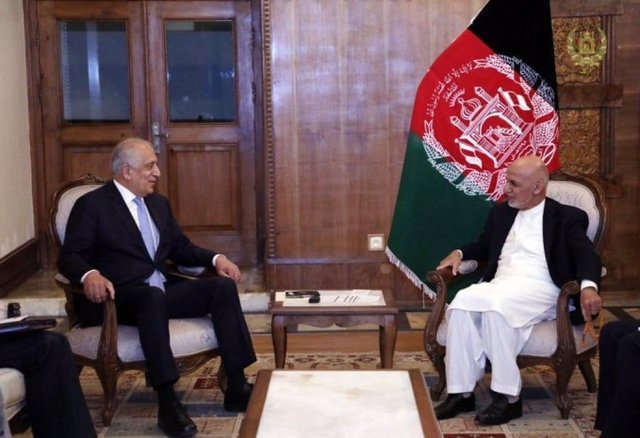 Zalmay Khalilzad, United States Special Envoy for Afghanistan, in a meeting with Afghan President Ashraf Ghani – TWITTER ZALMAY KHALILZAD – Archive
MADRID, 2 Feb. –
The United States special envoy for Reconciliation in Afghanistan, Zalmay Khalilzad, has concluded its last tour of Europe, Qatar, Pakistan and Afghanistan without progress in its peace efforts with the Afghan Taliban, as the Kabul government acknowledged in a statement .
Khalilzad reported the result of his round to Afghan President Ashraf Ghani and the country's chief executive or prime minister Abdulá Abdulá. Despite the willingness of the authorities with whom he has met throughout his trip, Khalilzad is still "waiting for a clear response from the Taliban" on the United States' request for a ceasefire.
The Taliban must also pronounce themselves when establishing a "practical mechanism" that substantially reduces violence in the country and is, at the same time, "acceptable to both the Afghan people and the US Government," according to the statement. of the Afghan Presidency, posted on their Facebook page.
The round of contacts has taken place after the office of the United States Special Inspector General for Reconstruction in Afghanistan (SIGAR) has denounced in its latest quarterly report that the attacks and attacks by the Taliban and other militias In the last quarter of 2019 they have reached the highest number recorded in this period of time since the beginning of the studies in 2010, in a country where corruption and child abuse continue to be endemic problems.
SIGAR has found a total of 8,204 militia attacks between October and December 2019, of which 37 percent dropped fatalities. The worst month was September, during the presidential elections, according to the study, which does not provide an accurate estimate beyond describing it as "the month with the highest number of attacks since the beginning of the studies in January 2010" .
While the number of civilian victims during these last three months has fallen by 20 percent over the same period last year, the overall figures are discouraging: at least 9,189 civilians were killed and injured in 2019 compared to 9,214 victims registered in 2018 .