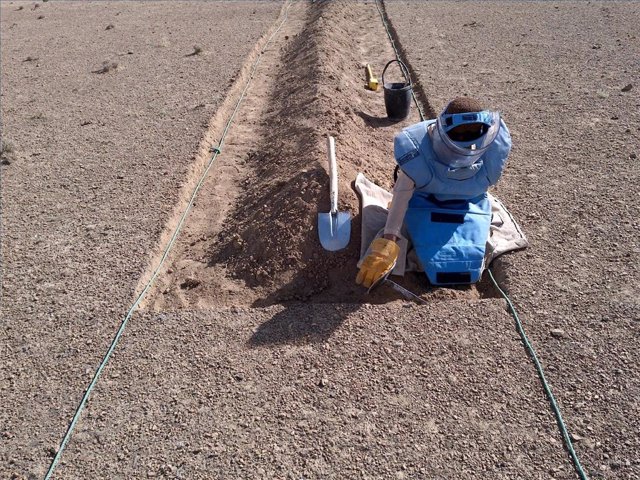 Anti-personnel mine deactivation tasks – UNITED STATES ARMY – Archive
NGOs repudiate this new decoupling of commitments made during the Obama era, which they describe as a "death sentence against civilians"
NEW YORK, 1 Feb. –
The White House announced on Friday the lifting of the ban, introduced during the term of President Barack Obama, on the use of antipersonnel mines outside the Korean peninsula to ensure the safety of the US military, in a gesture that has caused the NGO outrage against the use of these artifacts, such as Humanity Inclusion, which describe the measure as "a lethal turn involving a death sentence against civilians."
The US lifts the ban on the use of antipersonnel mines to ensure the safety of its military
In a statement, the president of the United States, Donald Trump, justified the decision by arguing that the ban hindered "his firm commitment to guarantee the ability of US forces to defend against any threat."
"The Department of Defense has concluded that these restrictions could lead to a serious disadvantage in a possible conflict against our adversaries," added White House Press Secretary Stephanie Grisham, "and the president is not willing to take this risk. ".
According to the new policy, the North American commanders could deploy the mines "in exceptional circumstances" and as long as the artifacts are equipped with self-destruct mechanisms: "non-persistent" mines that explode after a certain time if the enemy does not detonate them.
The announcement marks a new break with Obama's internationalist policy, which during his term he decided to partially respect, not to integrate, in the Convention for the Prohibition of the Use, Storage, Production and Transfer of Antipersonnel Mines, of which 160 countries are part , including France and the United Kingdom. China and Russia, American rivals, are not signatories of the convention.
Critics of the use of mines denounce that these devices rarely fulfill their mission. In fact, and according to a study by the Anti-Personnel Mining and Cluster Munition Control body, in 2018, 71 percent of the fatalities of these mines were civilians.
Humanity Inclusion has considered this decision as catastrophic. "A death sentence for civilians," lamented its executive director for the US, Jeff Meer. "There are acts of war that are simply out of bounds, and weapons that only cause superfluous injuries and unnecessary suffering. Landmines fall directly into this category. They achieve nothing that cannot be achieved by other means without killing civilians so indiscriminate, "he added.
Regarding the use of "non-persistent mines," HI warns that these devices often fail and the fact that only one of them remains active beyond the stipulated time is an intolerable crime. "Let no one be deceived," warns the person responsible for Civil Protection of the NGO, Alma Taslidzan.
"Everything that man creates has a failure rate," he adds. "What happens if they are not neutralized as planned? Our troops continue to see errors in these devices. The idea that the so-called" advanced "land mines will be safer than the older types of devices is absurd," he laments.
"We oppose in the strongest terms the idea that military commanders may be empowered to use mines," says Meer. "The safest land mine is the one that is never produced," concludes the national director of HI.