The US-led coalition confirms two attacks against its bases in Iraq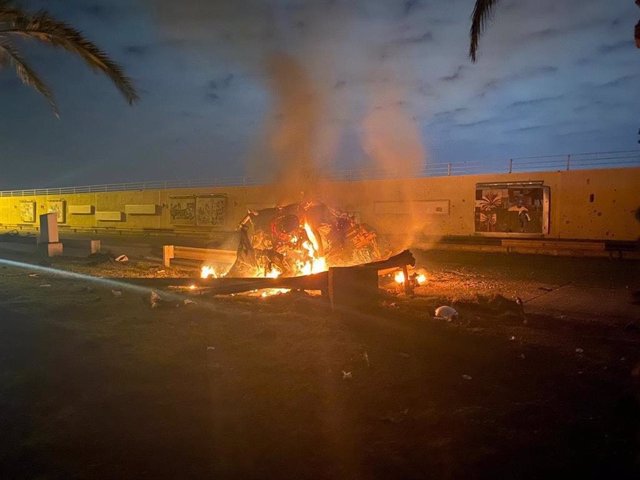 Image of the air attack against General Qasem Soleimani. – – / IRAQI SECURITY MEDIA CELL / DPA / –
MADRID, Jan. 5 (EUROPE PRESS) –
The US-led international anti-terrorist coalition has confirmed on Sunday that two attacks have been carried out against its bases in Iraq, one of them in the Green Zone of Baghdad, the fortified part of the host city of the main foreign embassies and the ministries of the Iraqi Government
"The coalition confirms two attacks near Iraqi bases that house coalition forces," they said in a statement quoted by the Russian news agency Sputnik. Specifically, it has been specified that the attacks have occurred at 7:46 p.m. in Baghdad in the international zone of the capital when "indirect fire that could have affected Iraqi civilians" was detected.
In addition, they have reported that a few minutes later some missiles fell near the Balad air base, north of Baghdad. "The coalition troops were not affected," they said and added that Iraqi security forces are investigating the events.
"Two missile attacks occurred near bases in Baghdad and Balad, a total of 13 attacks in the last two months. We have increased security at the Iraqi bases that house the troops of the International Coalition," said Colonel Myles B. Caggins III, spokesman for the coalition, through his Twitter account.
Tension in the area has increased after the United States claimed on Friday the death of Iranian General Qassen Soleimani, head of the Quds Force of the Revolutionary Guards of Iran, in an attack at Baghdad airport "to protect US personnel in abroad".
The Pentagon specified that Trump led the attack and explained in a statement that Soleimani "was actively developing plans to attack US diplomats in Iraq and throughout the region."