The US is willing to have "serious negotiations" and "without preconditions" with Ir á n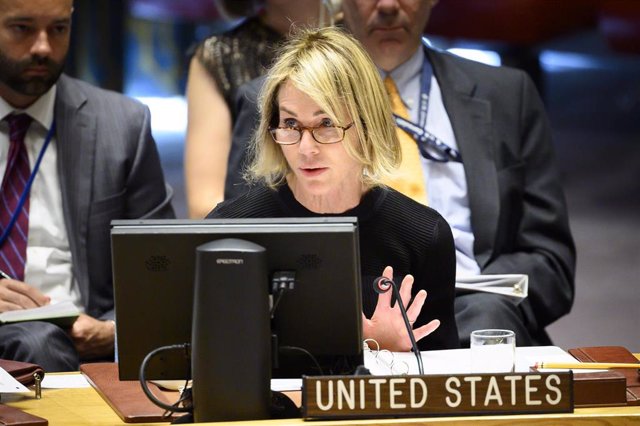 The United States representative to the United Nations, Kelly Craft – Michael Brochstein – Archive
MADRID, Jan. 9 (EUROPE PRESS) –
The US Government has stressed Thursday that it is willing to participate in "serious negotiations" and "without preconditions" with Iran to try to reduce tensions in the region.
"We are prepared to participate in serious and unconditional negotiations with Iran with the aim of avoiding a greater danger to international peace and security or an escalation by the Iranian regime," said the US representative to the United Nations, Kelly Craft , in a letter sent to the secretary general of the agency, António Guterres.
In the letter, collected by the US television network CNN, the United States has justified the bombing in which Iranian General Qasem Soleimani died, although he has shown himself open to a "diplomatic solution."
Thus, he said that he acted "exercising his inherent right to self-defense" to what he has described as "an increase in armed attacks in recent months by Iran and militias supported by Iran against US forces and interests in the East Next".
Soleimani died along with 'number two' of the Popular Mobilization Forces (FMP), Abu Mahdi al Muhandis, and several Iraqi militiamen, after which Tehran promised he would take revenge for the attack.
In response to the death of Soleimani, Iran attacked two military bases located in Iraq on missiles on which American soldiers are deployed on Wednesday, in which Iran's supreme leader, Ali Jamenei, described Washington as a "slap".
The president of the United States, Donald Trump, said hours later that the attacks have ended without casualties, although a person in charge of the Revolutionary Guard of Iran affirmed that they have killed at least 80 US military personnel.
For their part, the Iraqi authorities strongly criticized the bombing against Soleimani and the parliament on Sunday approved a motion that demands the expulsion of US troops from the country and forces the government to commit to making public any agreement that it reaches in the future for the presence of foreign military advisers and trainers.
During the day on Monday, the Iraqi Executive limited the activities of the international coalition and reduced them to training and advisory work, prohibiting their movements by land and air.
This same Thursday, the coalition against the Islamic State has announced a "pause" of its military operations in Iraq, given the increase in tensions in the country and the region.