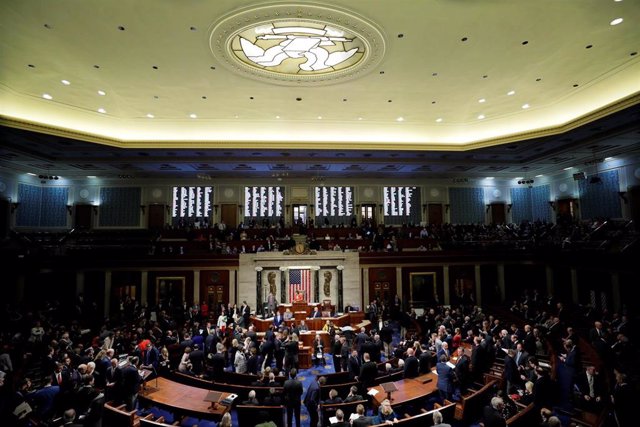 The US House of Representatives (archive image) – REUTERS / TOM BRENNER
WASHINGTON, Nov. 21 (Reuters / EP) –
The House of Representatives of the United States has approved on Wednesday a bill on Human Rights that supports the demonstrations in Hong Kong and has sent a warning to China about respect for Human Rights.
The US House of Representatives gives the green light to the bill on human rights in Hong Kong
With 417 votes in favor and one against, the House has approved the Hong Kong Human Rights and Democracy bill that the Senate unanimously approved on Tuesday. The measure will be sent to the White House for ratification by President Donald Trump.
The project, which has been criticized by Beijing, requires that the State Department certify at least once a year the autonomy of Hong Kong. It could also lead to sanctions against the high charges responsible for human rights violations during protests.
Protesters have protested in the streets of Hong Kong for five months and have intensified their protests in recent weeks. Citizens criticize China's interference with the promised freedoms to Hong Kong after the British colony returned to its domain in 1997. Beijing denies having interfered with Hong Kong affairs and blames Western countries for causing the riots.
In addition to this measure, the Chamber has also approved a second bill by 417 to 0, which the Senate had already passed unanimously and that prohibits the export of material such as tear gas, pepper gas, rubber bullets and electric guns for demonstration control in Hong Kong.
Trump has 10 days to sign the bill that the two chambers have approved, unless he opts for the veto, which has been rejected by experts on the issue since the measure has almost unanimous support from the two chambers. .
China on Wednesday condemned the bill alleging that "the United States should not interfere in the affairs of China and Hong Kong" and has urged stopping the measure.