The US House of Representatives approves a resolution in recognition of the Armenian genocide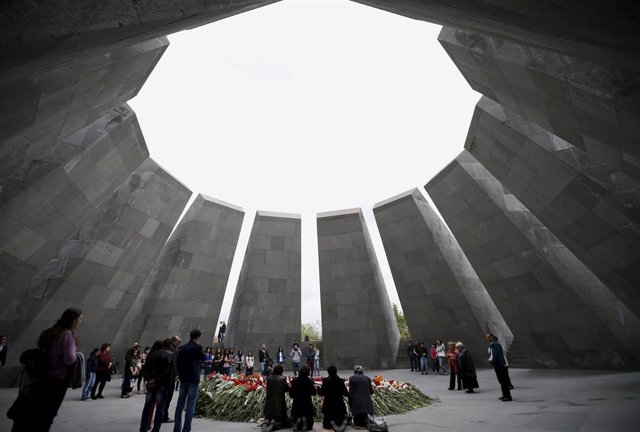 The Memorial of the Armenian Genocide of Tsitsernakaberd in the capital of Armenia, Yerevan – REUTERS / DAVID MDZINARISHVILI – Archive
MADRID, Oct. 30 (EUROPE PRESS) –
The House of Representatives of the United States has approved on Tuesday a resolution in recognition of the Armenian genocide, a historic vote that has already provoked an angry response from Turkey.
The resolution has resulted in 405 votes in favor and eleven against, according to the American newspaper 'The Washington Post'. The bill will now go to the Senate for voting.
The president of the House of Representatives, Nancy Pelosi, has pointed out that "there was an aura about what the Turks could be doing, participating again in a genocide, with the 'green light' that the president (Donald Trump) gave them ".
Pelosi has thus made reference to the military offensive launched on October 9 by the Turkish Army against Kurdish forces present in northern Syria, after Trump ordered the withdrawal of US troops that were in the area.
Trump's decision was a 180-degree turn in his policy towards the Syrian Democratic Forces (SDS), led by the Kurdish militia Popular Protection Units (YPG), allies of the international coalition in the fight against the Islamic State jihadist group.
After the vote, the Turkish Foreign Minister, Mevlut Cavosoglu, stressed through his account on the social network Twitter that "those whose projects were frustrated return to outdated resolutions."
"The circles that believe they will avenge in this way are wrong. This shameful decision of those who exploit history in politics is null and void for our Government and our population," he has settled.
The Armenian genocide, committed between 1915 and 1918, has been recognized since 1965 by several dozen countries and 43 states in the United States. It has also been recognized by the Vatican, the European Parliament, the World Council of Churches and other institutions.
Turkey does not deny that the massacres of Armenian civilians occurred, but it does not admit that it was a genocide, and argues that the deaths were not the result of a plan of mass extermination arranged by the Ottoman State.
In 2009 both parties signed agreements to establish diplomatic relations and open their land borders, in an attempt to leave behind the consequences of the First World War, in which the Armenian population was mass slaughtered by Ottomans.
However, then-President Serzh Sargsyan announced in February 2015 that his country was withdrawing from the peace agreement with Turkey approved by Parliament and that it was a historic advance to end hostilities between the two neighboring countries.
Subsequently, he said that Armenia was willing to resume its relations with Turkey, although he stressed that "the recognition of genocide by Ankara is the shortest way to achieve it."